Click each product group to refer to the selection table.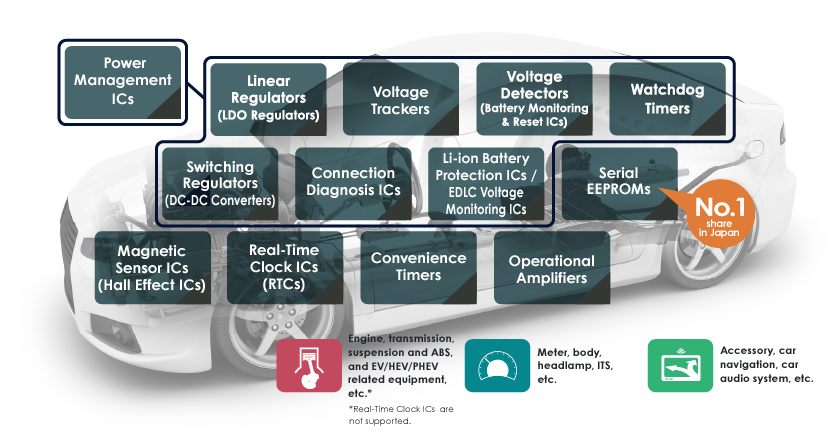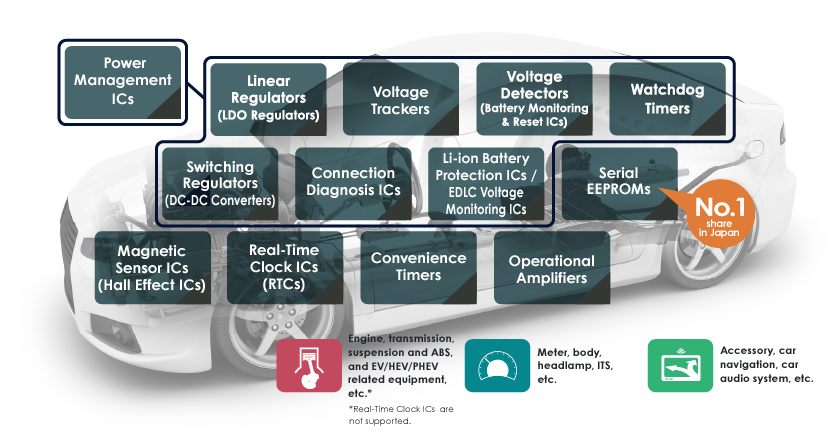 Many ICs are equipped in automobiles which continue to evolve at a dizzying pace. For the purpose of safe driving, high-quality automotive ICs are to be desired. Moreover, the popularity of environmentally friendly vehicles such as hybrid electric vehicles (HEV), electric vehicles (EV), idle reduction vehicles, etc. is growing. Thus, automotive ICs are also required to be low current consumption and provide high-accuracy sensing capabilities. ABLIC's automotive ICs have leveraged the low current consumption and high accuracy technologies, as well as the high quality that our top-selling automotive EEPROMs in Japan and other products are aiming at. ABLIC Inc. offers a lineup of automotive ICs that meets the needs of the customer and society
AEC-Q100 level quality demanded by the automotive market
ABLIC Inc. uses AEC-Q100 standards defined by the Automotive Electronics Council (AEC) to verify the quality and reliability of its automotive ICs. Products that comply with production part approval process (PPAP) standards are also available. ABLIC Inc. customers can be fully confident that ABLIC Inc. products will deliver the high quality and reliability for their automotive application.
IATF16949 certified
ABLIC Inc. has obtained IATF16949 certification, a quality management system standard for the automotive industry. ABLIC Inc.'s automotive ICs are developed based on the IATF16949 standard.
ABLIC Inc. offers FIT rate calculated based on actual customer usage conditions in order to support customer functional safety design. For more information regarding our FIT rate calculation, contact our sales representatives.
Available Applications
Automotive ICs are categorized according to their application. The following symbols indicate the types of applications for which an IC can be used, corresponding to those symbols shown throughout the website for the products.
Be sure to contact our sales representatives before using the ICs for vehicle equipment and in-vehicle equipment.

Example applications
Safety critical components typified by engine, transmission, suspension and ABS, and EV/HEV/PHEV related equipment, etc.


Example applications
Meter, body,
headlamp, ITS, etc.


Example applications
Accessory, car navigation,
car audio system, etc.
Thermal Simulation Service
By using the high-accuracy "thermal simulation service" , the load, time and cost on development can be reduced.
If we receive information on the board under consideration or the conditions of use, the thermal resistance values and recommended wiring ratio can be provided. Please contact our sales representatives for the thermal simulation service.

Magnetic Simulation Service
ABLIC Inc. offers a "magnetic simulation service" that provides the ideal combination of magnets and our Hall effect ICs for customer systems. Our magnetic simulation service will reduce prototype production, development period and development costs. In addition, it will contribute to optimization of parts to realize high cost performance.
For more information regarding our magnetic simulation service, contact our sales representatives.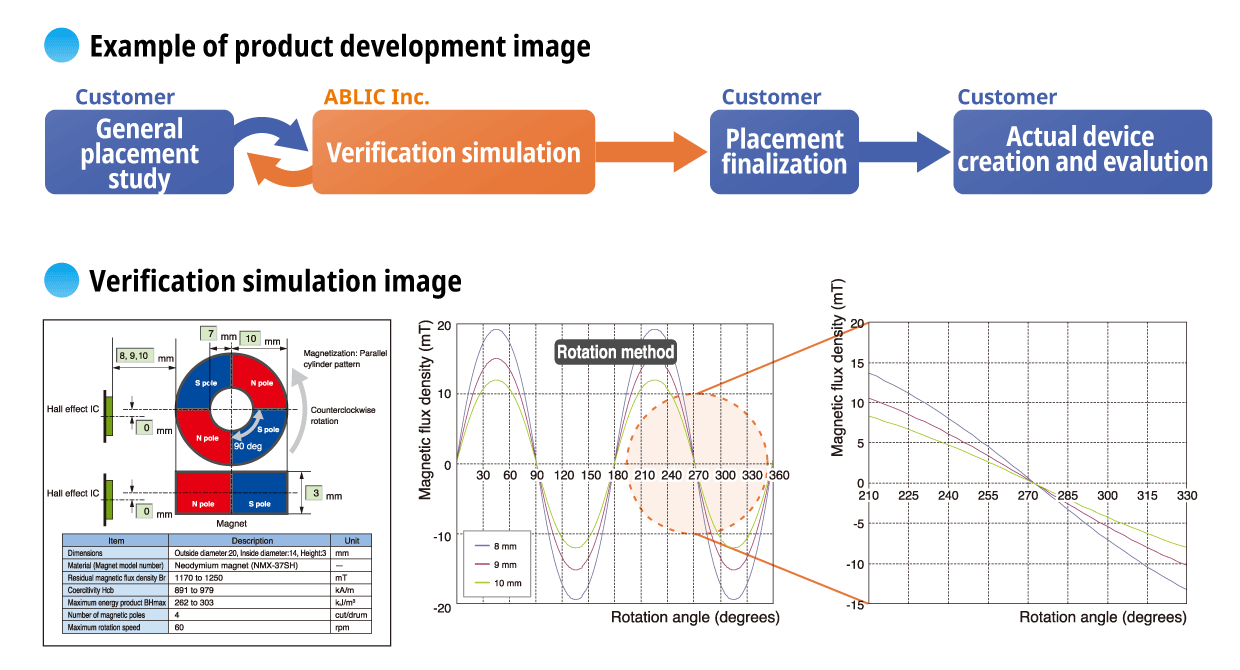 Circuit Example of ABLIC's Automotive Power Management ICs
For more information on automotive power management ICs, refer here.
Click the product name for more ​product information.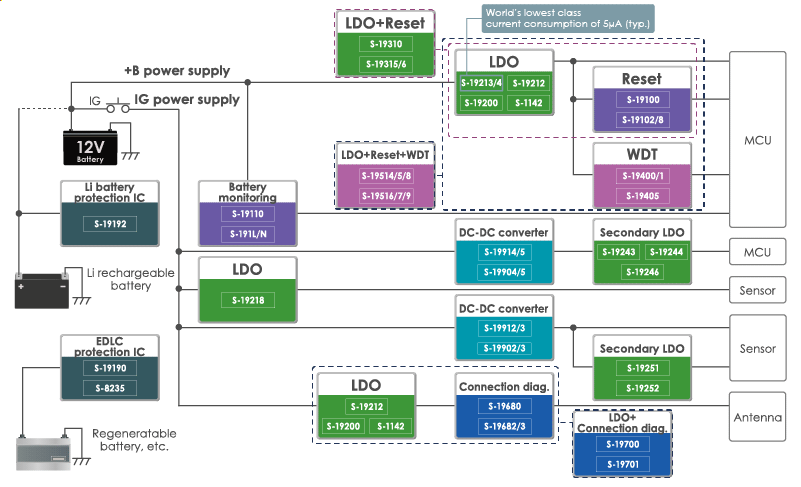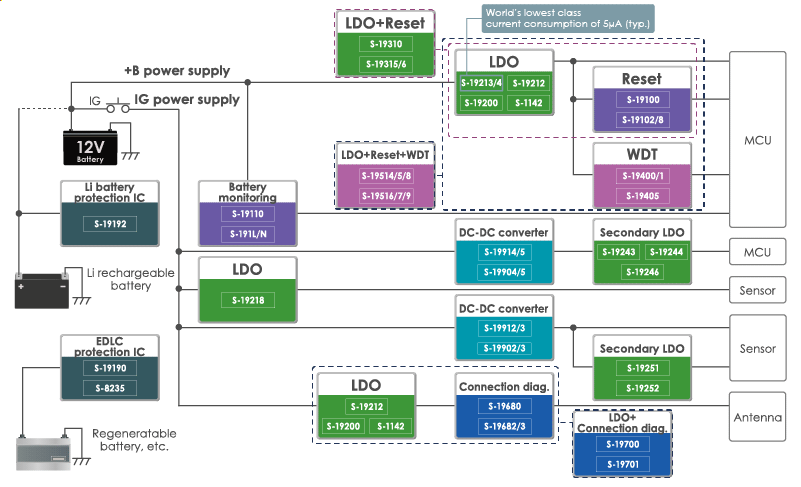 Automotive IC Product Lineup
Webshop (Sample Purchase)