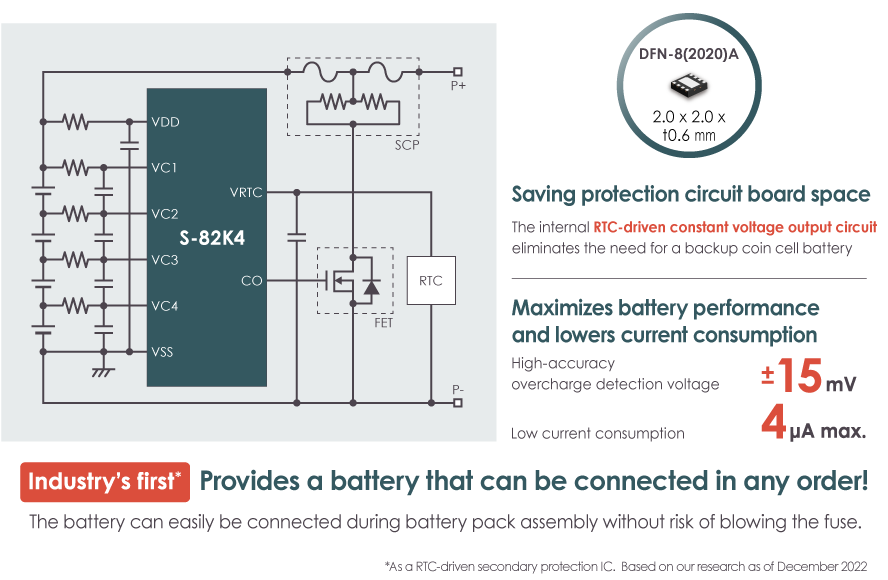 This IC is used for secondary protection of lithium-ion rechargeable batteries, and incorporates high-accuracy voltage detection circuits and delay circuits. The S-82K3 Series enable connection of 3-serial cell, and the S-82K4 Series enable connection of 4-serial cell.
This IC provides a wake-up function to prevent the fuse from blowing during battery connection, and allows the lithium battery to be connected in any order.
Since this IC also comes with a constant voltage output circuit, it can be used as a constant-voltage power supply for an external RTC (Real-Time clock IC).
Features
High-accuracy voltage detection circuit for each cell

Overcharge detection voltage n: 3.600 V to 4.800 V (5 mV step) Accuracy ±15 mV (Ta = +25°C), Accuracy ±25 mV (Ta = −10°C to +60°C)
Overcharge release voltage n*1: 3.600 V to 4.800 V Accuracy ±50 mV
VRTC pin shutdown voltage n: 2.500 V to 2.800 V (100 mV step) Accuracy ±50 mV

The wake-up function monitoring battery connection prevents CO pin output errors during battery connection

Delay times for overcharge detection are generated only by an internal circuit (external capacitors are unnecessary)

Overcharge detection delay time, VRTC pin shutdown delay time: 1 s, 2 s, 4 s, 6 s

Overcharge timer reset function

Available, unavailable

CO pin output voltage is limited to 7.5 V max.

VRTC pin output voltage

1.800 V to 3.300 V (100 mV step) Accuracy ±2% (Ta = +25°C)

VRTC pin output current

2 mA max.

Wide operation temperature range

Ta = −40°C to +85°C

Low current consumption

During operation (VCU − 1.0 V for each cell): 4.0 μA max.
During VRTC pin shutdown (VRSD − 1.0 V for each cell): 1.0 μA max.

Lead-free (Sn 100%), halogen-free
*1. Overcharge release voltage = Overcharge detection voltage − Overcharge hysteresis voltage
(Overcharge hysteresis voltage can be selected from a range of 0 mV to 400 mV in 50 mV step.)
Remark
1. n = 1, 2, 3, 4
2. The HSNT-8(1616) package product is now under development.
Applications
Lithium-ion rechargeable battery packs (for secondary protection)