Approach to Risk Management
We believe that risk management is a fundamental of business management and an essential feature for a corporation. We are striving to achieve business-worthy risk management by creating a comprehensive, functional, and effective risk management framework. We are striving to identify, foresee and forestall risks, and minimize the harm from any crises that occur.
Risk Management Framework
Our group formulates rules concerning risk management and carries out risk management through the CSR Committee, which is chaired by the President & CEO. The Office of CSR Initiatives serves as the Secretariat of the Committee.
The CSR Committee assesses information related to risks across the company as a whole, and selects and monitors important risks. It provides instructions and advice to the relevant divisions, and discusses and makes decisions on the management of risks that become apparent. The committee also reports regularly on the situation to the Board of Directors. Moreover, we have adopted a Risk Management System and follow PDCA management (plan, do, check, act) so that we can uniformly track the risks inside the group and achieve risk management for the corporate as a whole.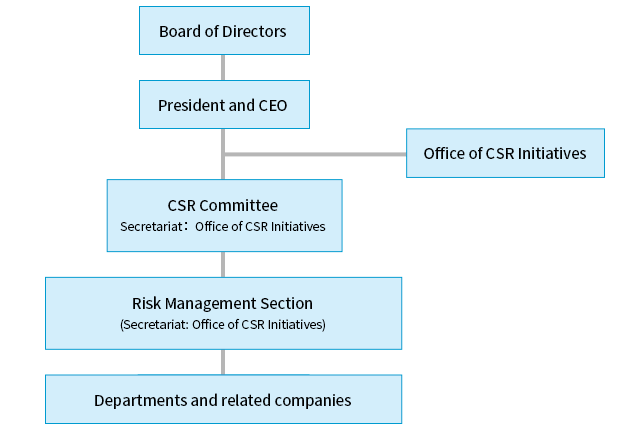 Framework for Risk Management
Dealing with Important Risks
In FY2019, the CSR Committee recognized and closely monitored a number of important risks, including the risk of earthquakes and other disasters, environmental risks, the risk of computer system failures, the risks of work-related accidents, securing personnel and reputation risk. It monitors the changing circumstances and progress of countermeasures each quarter.
Example of dealing with important risks: earthquakes and other disasters
Earthquakes and other disasters were an important risk identified in FY2017, and an example of how we are working to deal with the risks facing the corporation. Disaster drills are being conducted at different locations with a view to putting the safety of our employees first and to restore operations promptly in the wake of a disaster.
Basic policy for business continuity plans (BCPs)
Give the highest priority to the lives and safety of everyone on company premises.
In order to fulfill our supply responsibilities to our customers, take preventive measures that anticipate the risk of disaster, and focus primarily on recovering from disaster in the shortest period of time.
Cooperate with neighboring regions and local governments to provide as much assistance as possible.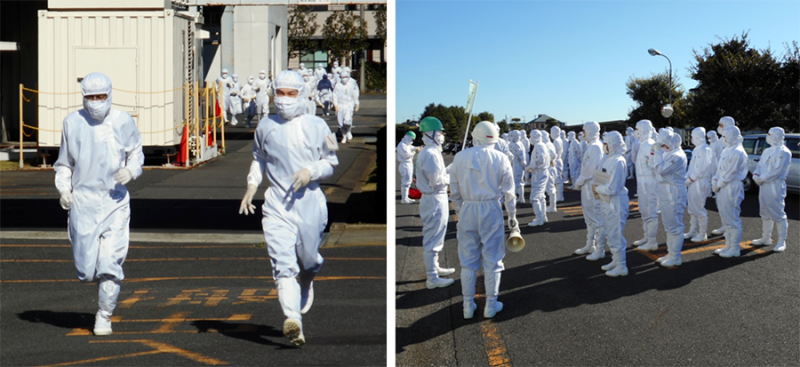 Disaster drill at the Takatsuka Unit