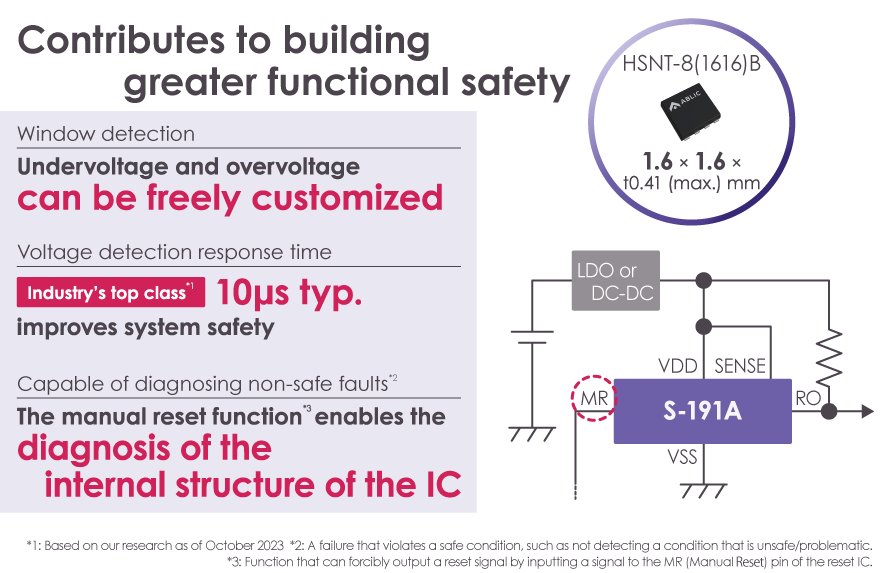 This IC, developed using CMOS technology, is a high-accuracy window voltage detector that detects undervoltage and overvoltage. The detection voltage and release voltage are fixed internally with an accuracy of ±1.5%.
Apart from the power supply pin, the detection voltage input pin (SENSE pin) is also prepared, so the output is stable even if the SENSE pin voltage (VSENSE) falls to 0 V.
The release signal can be delayed by setting a capacitor externally, and the release delay time accuracy is ±15% (CD = 3.3 nF). This IC also has a manual reset function. The manual reset function changes the comparator input voltage of the internal circuit, and the detector is forcibly put into the detection status. This enables a diagnosis of anomalies in the detector, such as erroneous release.
The output form is Nch open-drain output.
Features
Detection voltage

Undervoltage detection voltage 0.6 V to 4.9 V (0.05 V step)
Overvoltage detection voltage 0.7 V to 5.5 V (0.05 V step)

Detection voltage accuracy

Undervoltage detection voltage ±1.5%
Overvoltage detection voltage ±1.5%

Hysteresis width selectable from "Available" / "Unavailable"

"Available": 3.0%, 5.0%, 10.0%
"Unavailable": 0%

Detection response time

10.0 μs typ.

Manual reset function

MR pin input logic: Active "L"

Release delay time accuracy

±15% (CD = 3.3 nF)

Output form

Nch open-drain output

Current consumption

1.5 μA typ.

Operation voltage range

2.5 V to 6.0 V

Operation temperature range

Ta = −40°C to +125°C

Lead-free (Sn 100%), halogen-free

AEC-Q100 in process*1
*1. Contact our sales representatives for details.
Applications
Overvoltage detection of power supply for automotive electric component
Voltage monitoring of automotive ECUs, ADAS and other systems that require failure detection
For automotive use (engine, transmission, suspension, ABS, related-devices for EV / HEV / PHEV, etc.)