1. Detection Types of ABLIC's Hall Effect ICs
ABLIC offers both Hall effect latch and switch ICs in the world's thinnest class packages to meet the needs of a wide variety of devices used in automobiles for motion detection.
Users can select the bipolar latch or the newly developed ZCL detection method for Hall effect latch ICs for motor control and rotation detection, and the unipolar or omnipolar detection method for Hall effect switch ICs for detecting opening, closing and sliding motion.
Please refer to our product lineupour product lineup for products using the different detection methods.

2. Innovating the Design and Manufacture of Automotive Brushless DC Motors Using ZCLTM Hall Effect ICs
A ZCL (=Zero Crossing Latch) Hall effect IC is a latch type Hall effect IC that uses a world first detection methodology to change the output signal at the zero-crossing point where polarity changes. Optimized for brushless DC (BLDC) motors, this Hall effect IC is not thrown off by changes in magnetic flux density and therefore provides stable detection.
Complex control programs are not needed to create a motor that runs smoothly.
A ZCL Hall effect IC is not easily affected by variations in magnets or changes in magnetic flux density and provides the expected rotation detection. Smooth motor rotation is obtained without complex program control.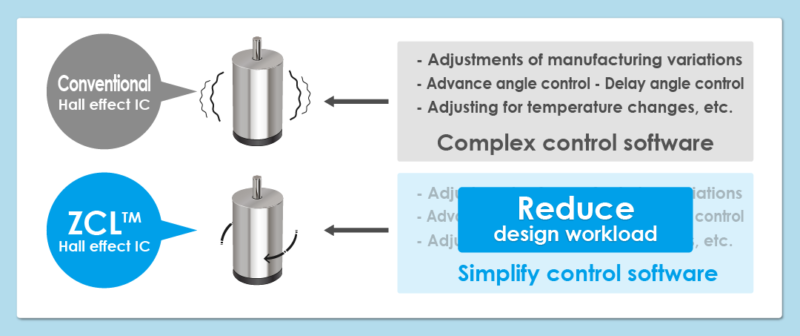 Striving for a high efficiency motor that reduces the need for calibration
Rotation detection unaffected by temperature change or design tolerances is a ZCL Hall effect IC characteristic. Use a ZCL Hall effect IC to create a motor that will be able to constantly operate at full torque without calibration. Nor will it be affected by drops in efficiency due to temperature changes or design tolerances.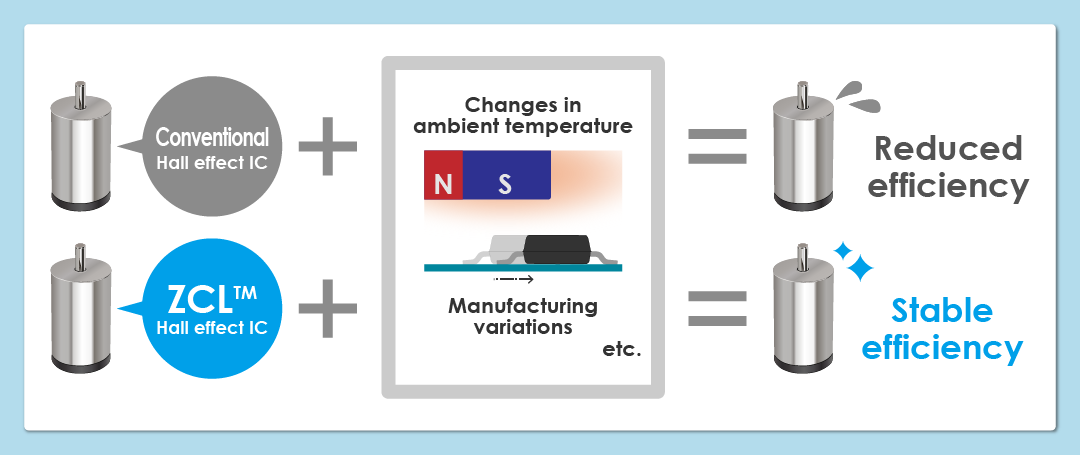 Providing an Innovative Sensor Layout
Regardless of the magnitude of magnetic flux density, as long as the changes in the magnetic flux received by a ZCL Hall effect IC are in the correct phase, these sensor ICs can be installed almost anywhere.
*However, the magnetic flux density received by a ZCL Hall effect IC must exceed the release point.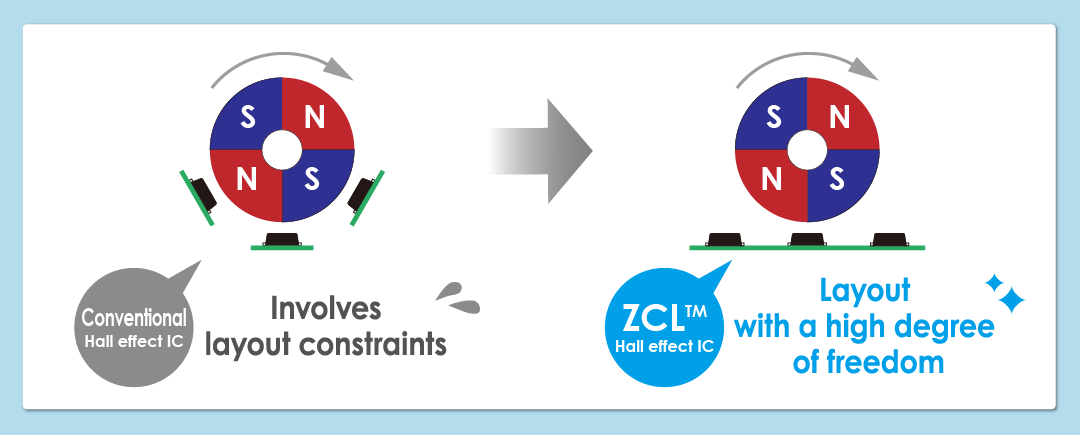 ≫For more information, please refer to "What is the ZCL Hall effect IC?"
3. ABLIC's Automotive Hall Effect ICs for Safe and Reliable Automobile Manufacture
High Quality Hall Effect ICs Ensure the Reliability of Automotive Product Manufacture
The World's Thinnest Class Packages Will Enable Flatter Motors and Increase Automobile Interior Space!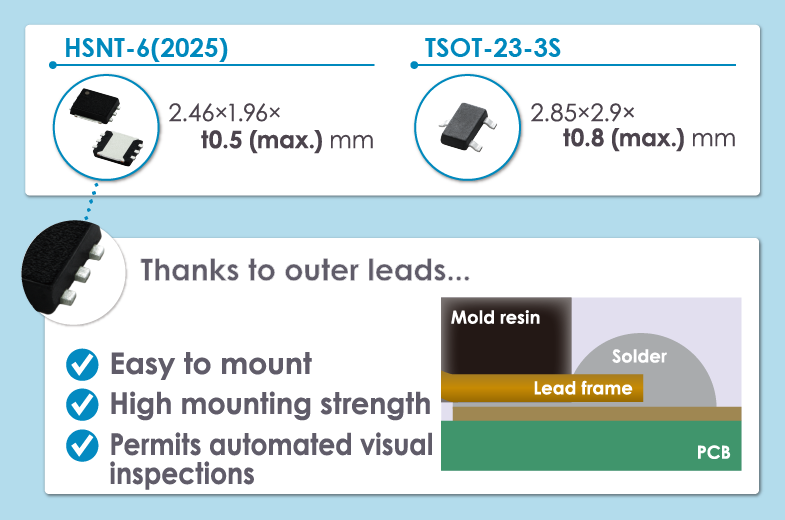 HSNT-6(2025)
Ultra-thin package of 0.5mm (max.) with outer leads. The high mounting strength is provided by soldering the heat sink on the back to a printed circuit board.
 
TSOT-23-3S
This gull-wing ultra-thin package of 0.8mm (max.) is approximately two-thirds the thickness of the general-purpose SOT-23-3 package.
A Wide Lineup Simplifies Customer Selection of Hall Effect ICs Ideal for Their Devices
4. Applications
Latch Type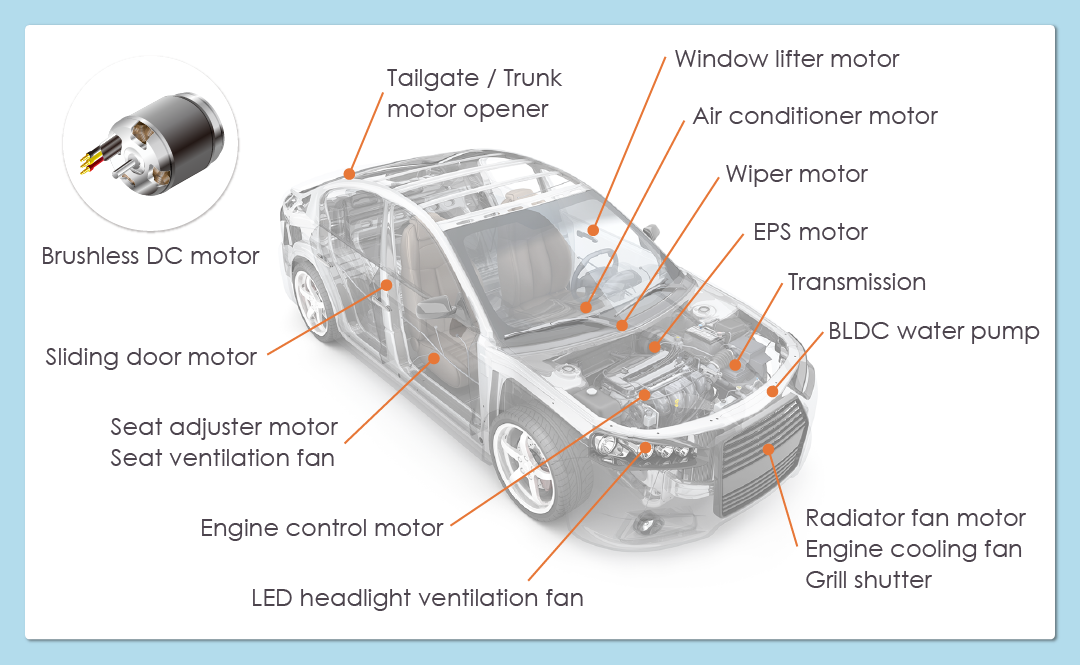 Hall Effect Latch ICs
150°C operation
ZCLTM Hall effect IC
for BLDC motors
S-57TZ S Series
150°C operation,
high-accuracy, thin
bipolar latch Hall effect IC
S-57RB S Series
125°C operation
bipolar latch Hall effect IC
S-57K1 A Series
Switch Type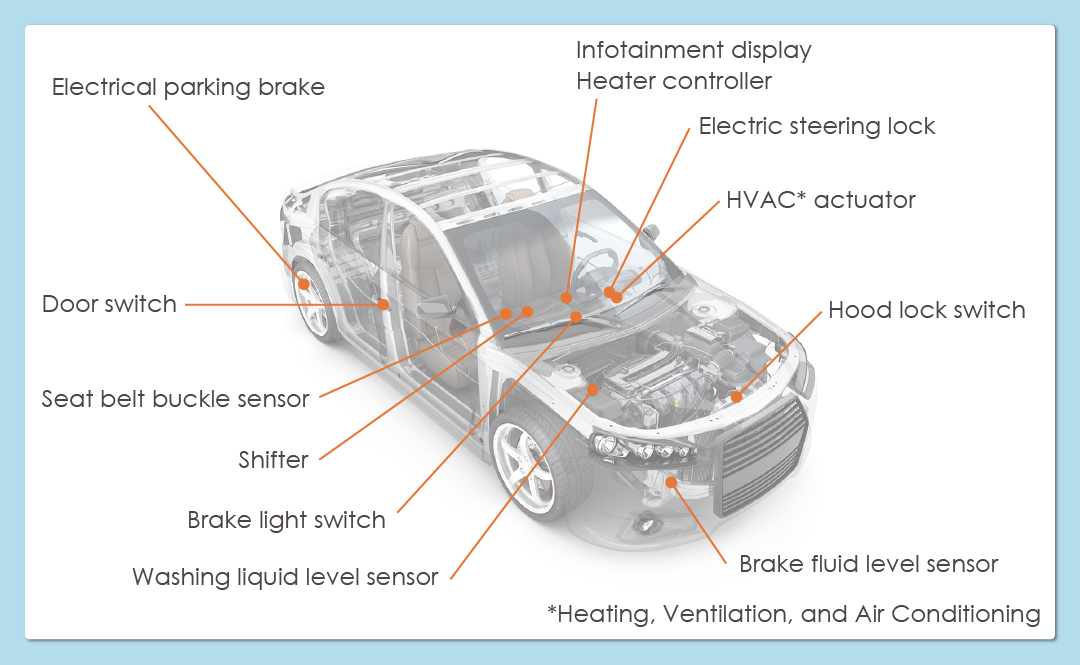 5. Automotive Hall Effect IC Product Lineup
6. Magnetic Simulation Service
8. ABLIC's Automotive IC Product Lineup
ABLIC provides a wide variety of automotive ICs in addition to automotive Hall effect ICs. We hope you will consider our other products in addition to our Hall effect ICs.