Human Resource Policy
ABLIC considers employees to be its most valuable stakeholders, as they create new value for society through business operations and implement sustainable development. We therefore focus on the following philosophy, and create systems and implement human resource measures to realize it.
We support the spirit of challenge and growth of each and every employee
We leverage the character and strengths of employees to form a single global team composed of diverse personnel
We fairly reward employees for their results
Values
In order to become one of the world's leading analog semiconductor manufacturers, we have defined the following six values that represent the standards to be reflected by all of our employees in their day-to-day activities. Even when faced with uncertainties in dramatically changing business environments, we believe that if employees make and act on decisions based on these six values, they will be able to provide customers with solutions that make the impossible possible, and each and every employee will find their work to be rewarding.
ABLIC Values
Providing customers with moving experiences
We will identify the true needs of customers from a customer perspective, and provide customers with products, services, and solutions that exceed their expectations
Independent activity
We will not allow ourselves to be confined by conventional wisdom, but will instead make new discoveries and adopt innovations, acting independently and with conviction, and will take responsibility for the results of our efforts
Adaptation to change
We will adapt to environmental changes to create new value
Focus on speed
We will recognize speed as the greatest added value, and will define priorities and take action accordingly, without fear of failure
Welcoming diversity and acting as a unified global team
We will respect and welcome diversity and act based on what is best overall from a global perspective
Compliance
We will satisfy our responsibility to society by acting with care towards safety, health, and the environment, in compliance with laws and regulations
Employment and Dismissal Practices
Employment measures
In order to maintain broad perspectives that always takes on new challenges, we are fair in our hiring of diverse personnel with drive and independence, both new university graduates and mid-career hires. Our hiring does not allow favoritism on the basis of personal emotion, personal connections, regional connections, blood relations, academic connections, or the like.
Prohibition of discrimination in hiring, personnel evaluations, and dismissal
We respect the character of all people in our hiring and dismissal activities, and do not discriminate on the basis of gender, race, nationality, birthplace, religion, belief, occupation, physical condition, history, age, etc.
Disciplinary action
In the event of legal or regulatory infractions by employees, or of violations of social morals, etc. by employees that damage said employees' dignity, or in the event of recognized harassment, disciplinary action is taken by a disciplinary committee.
| | |
| --- | --- |
| Number of employees (non-consolidated, as of March 2021) | 877(men: 748, women: 129) |
| Number of employees of overseas subsidiaries (as of March 2020) | 84 (men: 40, women: 40) |
| Number of employees hired (non-consolidated, 2021) | 18(new university graduates: 13, mid-career: 5) |
| Number of resignees (non-consolidated, FY2020) | 26 (mandatory retirement: 1, completion of contract period: 8, resignation for own reasons: 17) |
| Attrition rate (non-consolidated, resignation for own reasons, 2019) | 1.9% |
Fair Evaluation and Treatment
Appropriate treatment rewarding capabilities and results
We have created a human resource system that seeks to improve employee motivation by fairly evaluating employee capabilities and results, as well as how well they have put ABLIC Values into practice, and reflecting these evaluations appropriately in employee treatment.
Respect for individuality and fair evaluation
In order to perform valuable work independently, it is extremely important that employees have a deep understanding of objectives and that objectives be persuasive. We understand that vigorous debate on equal footing is essential to achieving this, and that we must create a corporate culture in which all employees can speak freely and frankly. We aim to perform personnel evaluations objectively and fairly, respecting the character and personalities of employees.
Personnel Development Philosophy and Personnel Development System
It is said that a person's company life will last for 50 years from now on, and therefore it will become even more important for people to continue learning. For this reason, we prioritize providing growth opportunities for our employees and have built a personnel development program using a coined Japanese term that means "growing together" with the hope of developing our company together with our employees. To be able to hire a wide variety of human resources at appropriate times, our "Growing Together System" is a lifelong learning program that allows all our employees to constantly brush up on their knowledge and skill levels, regardless of their hierarchical positions. It consists of the concept of compliance, which is at the center of the program, and the content described in the surrounding four quadrants. We created this program by reassessing the conventional hierarchical training along ABLIC Values.


Respect for Human Rights
Our group has a policy of establishing and respecting the individual, based on our spirit of respect for human rights. We have defined company regulations promoting the establishment of and respect for the individual. The following actions, which constitute violations of character, are prohibited.
1) Abuse of personal information, spreading of fallacious or unfounded rumors
2) Libel or defamation
3) Violations of property or privacy
4) Discrimination, abuse, neglect, bullying, or harassment
5) Sexual harassment
6) Violence, threats, assault, or stalking
7) Other actions which can be categorized as one or more of 1) to 6) above
Prohibition of discrimination
We respect the character of all people, and make all hiring, training and education, promotion and raise, payment, reassignment, benefit program, and other internal treatment decisions fairly, without discriminating on the basis of gender, race, nationality, birthplace, religion, belief, occupation, physical condition, history, age, etc. We have created company regulations and raise awareness of said regulations with the goal of fostering respect for the character of all people and preventing all discriminatory behavior, both inside and outside the company.
Prohibition of harassment
Through our day to day communications we strive to create a sound and secure workplace free of harassment. In the event of speech, attitudes, or actions by executives, employees, or, in particular, managers which constitute harassment, we take appropriate measures to immediately halt this behavior. We strive to prevent harassment not only within the company but also in relationships with clients and customers, demanding that all parties act in a way that establishes positive interpersonal relationships. Based on this perspective, we have established harassment consultation points .
Diversity Measures
Our group is creating opportunities and workplace environments where diverse employees can leverage their character and strengths to achieve their potential, regardless of age, sex, nationality, or disabilities.
Measures related to persons with disabilities
We actively hire persons with disabilities through our hiring activities throughout the year. We have created an environment in which employees with disabilities work under the exact same systems as employees without disabilities, including work scopes and operation contents, promotions and raises, and evaluation systems, while taking into consideration their disability conditions.
We currently employ 13 staff members with disabilities, and we also work to promote the hiring of persons with disabilities within the local community, such as by regularly providing workplace experience opportunities for students of a nearby special-needs school.
Promotion of women's professional advancement
In order to produce innovation by having diverse personnel leverage their capabilities, we promote the creation of an environment in which female employees can achieve greater success. In the future, we will also hold seminars, etc., in which outside experts and female managers can share their own experiences.
Human resource globalization
Currently 70% of our group's sales consist of overseas sales, and many of our stakeholders are outside of Japan. In order to become a valuable business partner to our customers, we seek out talented personnel throughout the world, without regard to country or region. As part of these efforts, our gates are open to international students for regular hiring, and we hire graduates of overseas universities.
Welcoming diversity
In order to produce innovation by having diverse personnel leverage their capabilities, our group welcomes employees with a diverse range of attributes, as well as engaging in management that reflects our understanding of the diverse values and personalities of individuals. These diverse attributes consist not only of visible differences, but differences in values and personalities between individuals. We strive to create an environment where, based on this, all of our employees can work animatedly and find their work to be rewarding.
ABLIC's Diversity Policy
Percentage of female managers and executives
Female employee percentage: 14.7%
Female manager percentage: 7.0%
Achieving Work-Life Balance
We have established various systems to assist employees with balancing work and home life, so that employees can achieve their full capabilities, and we work to enrich these systems on an ongoing basis.
Our nursing care leave system provides three years of work leave per family member requiring care. Our hour increment leave system was changed in April 2017 to allow leave to be taken in units of one hour, instead of the unit size of two hours that had been used before the change, producing more flexible work styles. Furthermore, the company has established two company-wide "No Overtime Days" per week and two company-wide "No Meeting Days" per month in order to improve work productivity. We will continue to increase operation efficiency and actively reform work styles.
Furthermore, the company has started a teleworking system from February 2020. We will continue to increase operation efficiency and actively reform work styles.
Creating Fulfilling Workplace Environments
Since 2019 we have been carrying out the "Work Fulfillment Enhancement Project, in which employees participate on their own initiative. This in-house project is popularly known as the acronym "A-WIN (ABLIC Workplace Innovation Network)." This name expresses our employees' desire to reform and enhance their workplace environments while establishing connections with other employees. Following a decision to adopt a mascot character through voting by employees, the project mascot was born with the name "ABLICO."


ABLICO's Work Fulfillment Enhancement Project
The project so far has focused first on tackling familiar issues, such as providing communication space, and improving the efficiency of conference operation and meeting material creation work, and is currently trying to make work simpler by organizing information useful for work. Parts of the project are oriented outside the company. For example, an in-house volunteer team ("ABLIC Maker Project" (AMP)), formed based on an employee suggestion, created an exhibit at the Maker Faire Tokyo 2020 held at Tokyo Big Sight. The main concept of the company booth was to help children become interested in analog semiconductors, and many people, especially families with children, came to visit the booth during the event.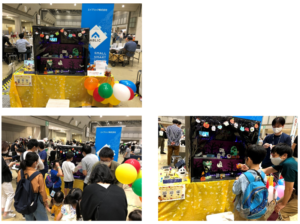 ABLIC booth at Maker Faire Tokyo 2020
Plans for the project are to continue making reforms by having each employee actively make suggestions and independently take actions, to make our company an even better place.
Benefit programs 
Social Insurance
Health insurance
Employee pension insurance
Employment insurance
Industrial accident insurance
Finance and Saving Related
Home asset-building savings, Asset-building pension
Other
Defined contribution pension (DC)
Congratulatory and condolence payments
Group long term disability income indemnity insurance
Insurance Related, etc. (Voluntary Individual Participation)
Life insurance
Group insurance
Shareholding association
Benefit program usage conditions (FY2020) 
Number of days of annual paid leave granted: 20
Percentage of annual paid leaves taken : 64.8%
Number of female employees taking parental leave: 5
Number of male employees taking parental leave: 1 
Number of employees using nursing leave system: 2
Work Health and Safety and Health Management
We believe that the ability of all employees to work in safety and security, and the physical and mental health of all employees, are the bedrock that supports corporate activity.
Led by the ABLIC Group Work Health and Safety Policy, the safety and health of all of our employees is our number one priority. In order to create rewarding work environments, we continuously work to prevent factory accidents and occupational accidents, pursue even higher levels of safety, and create more pleasant work environments in all of our group's sites.
Work Health and Safety and Health Management
In creating value for society through semiconductors and striving for sustainable development, we view the people who work under our management as our most important stakeholders, and we regard the prevention of occupational injury, illness and disease for the people who work under our management as of utmost importance in business operations. We therefore strive to build a safe and healthy work environment in order to make our group one in which all people who work under our management can take pride.
In order to realize this policy, we will pursue the following:
1. We shall work on risk assessment, identifying and removing hazards, and striving to reduce risks and prevent accidents.
2. We shall work on strengthening our health and safety management system.
3. We shall strive for health maintenance and improvement for people who work under our management, and create comfortable workplaces. 
4. We shall establish a forum for discussion with people who work under our management, and as a united team, we shall engage in activities for health and safety management. 
5. We will work to comply with laws, regulations, customer requirements and other requirements that apply to our company.
6. Following the plan-do-check-act (PDCA) cycle, we shall work on making constant improvements to safe and healthy work environments.
7. Education shall be constantly provided to shape a workplace culture in which all people who work under our management share the principle of "safety first."
Nobumasa Ishiai
President and CEO
ABLIC Inc.
October 1, 2019