Hall effect ICs by ABLIC Inc. detect magnet field and output signals. By combining with a magnet, these Hall effect ICs can detect open/close, rotation and direction in various devices. ABLIC Inc.'s Hall effect ICs – small, low current consumption, high density mounting – are suitable for portable devices, home appliances, housing equipments and more. 3 magnet field detection types of omnipolar detection, unipolar detection and bipolar detection are available for various applications.
1. How to select a suitable Hall effect IC
ABLIC offers a wide variety of Hall effect ICs on customers' demand. You can select a suitable Hall effect IC by considering order below.
2. Best for open / close switches of portable devices
Super low current consumption 1.4 μA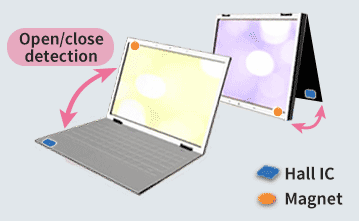 By combining with a magnet, this Hall effect ICs can be used for the open/close or slide switches. Due to its low current consumption, this IC is especially suitable for portable devices that must be compact. Also, the IC can be used in many appliances due to its wide operatingvoltage.
Low current consumption, High-accuracy/high-sensitivity
| Series name | Webshop (online samples) |
| --- | --- |
| Supply voltage (1.6 to 3.5V) S-5712A Series | |
| Supply voltage (2.7 to 5.5V) S-5716 Series | |
3. Best for detecting open / close state and direction of home appliances and housing equipments
3V to 5V system from low speed to high speed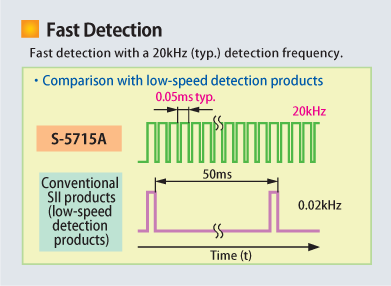 Detect open/close state and direction in various devices
High speed detection is possible with the detection frequency of 20KHz
Possible for selecting the best ICs in consideration of the balance between the detection frequency from low speed to high speed and current consumption
| Series name | Webshop (online samples) |
| --- | --- |
| Medium and high speed operation S-5715 Series | |
| 125°C operation S-57B1 Series | |
4. Best for detecting rotation state and direction of home appliances and housing equipments
Products with biopolar detection from low speed to high speed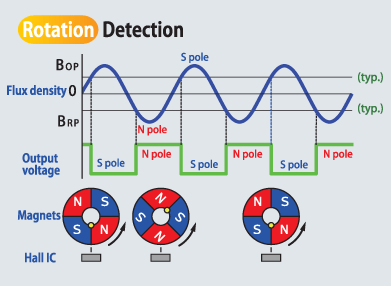 Detect direction and rotation state in various devices
High speed detection is possible with the detection frequency of 20KHz
Possible for selecting the best ICs in consideration of the balance between the detection frequency from low speed to high speed and current consumption
| Series name | Webshop (online samples) |
| --- | --- |
| Low voltage operation S-5724 Series | |
| Operation from low speed to high speed S-5725 Series | |
| 125°C operation S-57M1 Series | |
Selection table