Automotive Hall effect IC in the ultra-thin package
S-57GD/GS/GN/TZ/RB Series

Proposing an ultra-thin Hall effect IC

for sensing opening/closing, sliding and rotational movements of automotive devices and parts
thinner and smaller modules


to provide more interior space and better handling.

Non-contact sensing makes the IC resistant to wear and dust, and


improves device durability.


Recommending
the S-57GD, S-57GS/GN,
S-57TZ, S-57RB Series

Hall effect IC in the world's thinnest*1 package
The 0.5mm thin package reduces the overall space of the Hall effect IC and the magnets. It is a unique package that helps improve both IC mountability and strength.
Buy Online
Our Ultra-thin Hall effect IC helps create a comfortable interior space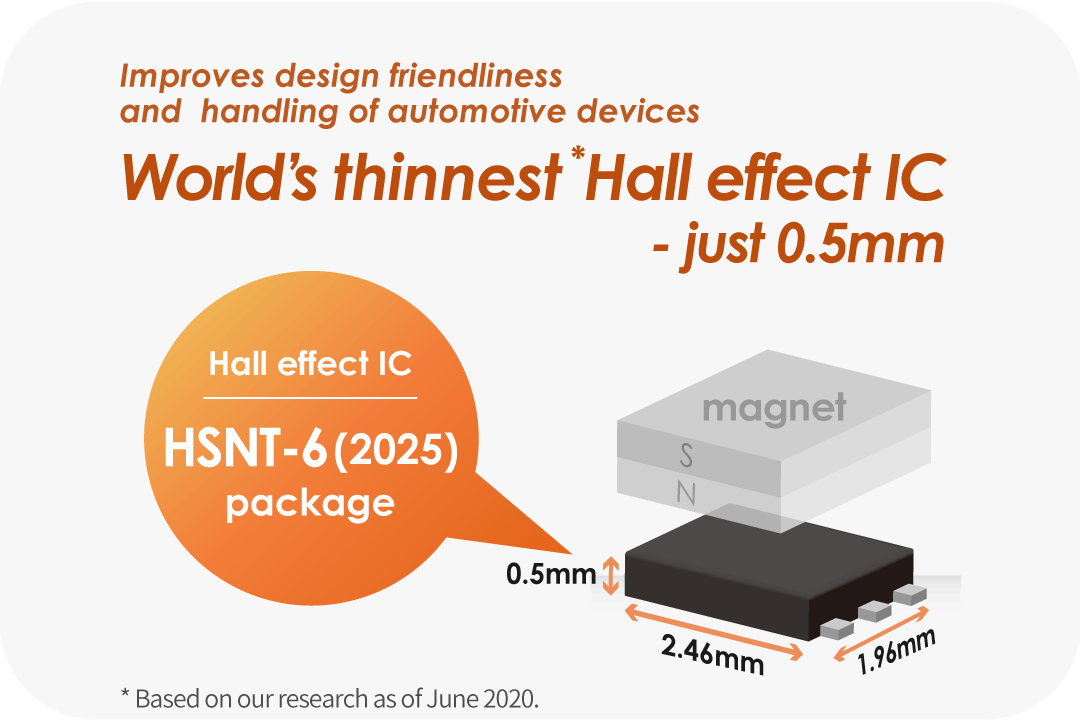 Supporting improved design friendliness and handling of automotive devices
Hall effect ICs enable contactless sensing of opening/closing, sliding and rotational movements using electric signals.
Hall effect ICs are extensively used in automotive devices so making them smaller and thinner will shrink device volume and improve design friendliness and handling.
The world's thinnest*1 HSNT-6(2025) package Hall effect IC is instrumental in increasing the comfort of the interior space.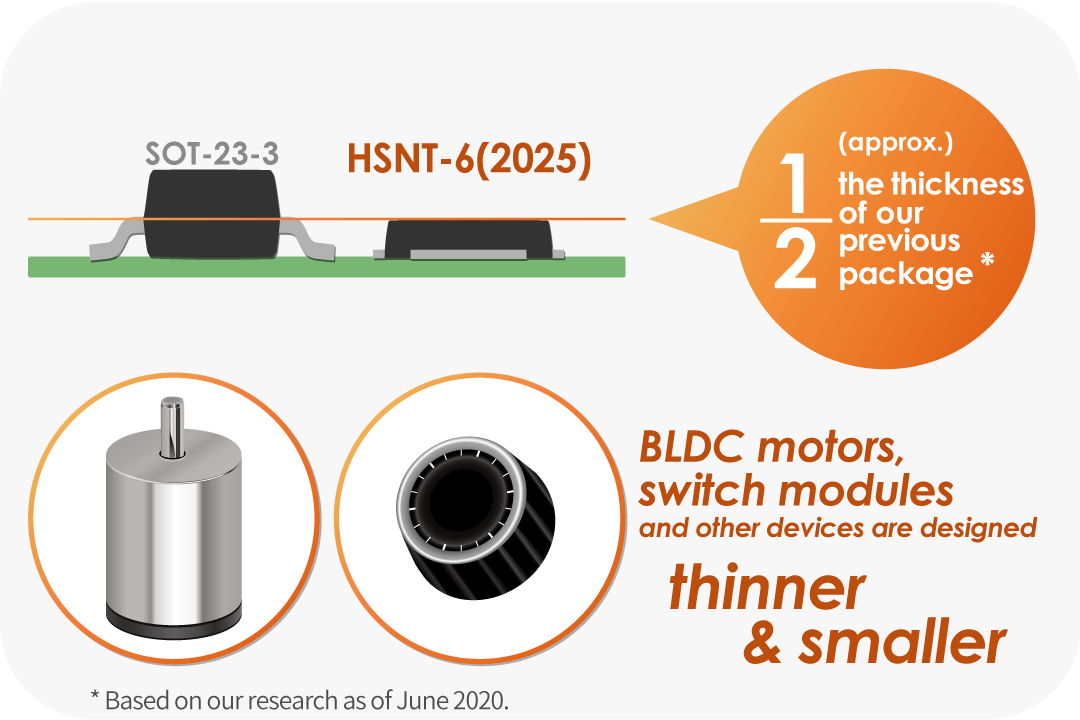 Thinner Hall effect IC Capabilities
The HSNT-6(2025) package is a just 0.5mm in thickness.
This is roughly half the thickness of our previous package*2.
The HSNT-6(2025) package substantially reduces the overall space of the IC and magnets.
For example,
・Modules with thinner and smaller adjustment dials can be manufactured. All of which contributes to better handling and greater design friendliness.
・The BLDC motors for power windows can be designed thinner to increase interior space.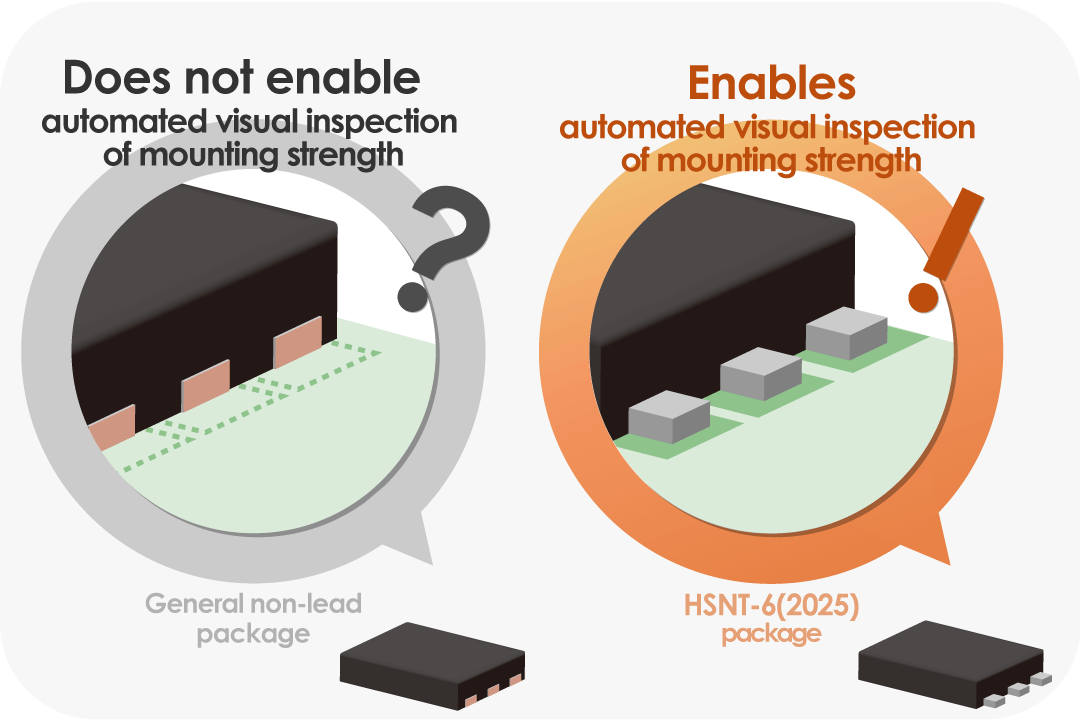 Resolving the difficult to use aspects of small and thin components
The HSNT-6(2025) is an ultra-thin package, its pins protrude from the sides of the package so an automated visual inspection can be made to confirm that the pins are properly soldered to the board.
A TSOT-23-3S package that permits automated visual inspection is also available.
Application
Automotive equipment
・Open/close or sliding detection for air conditioning adjustment dial, steering switch, seat belt buckle,
shift lever and door
・Rotation detection for fan motors, roof window motors, electric power steering motors, wiper motors etc. in DC brushless motor control
Hall effect ICs for Automotive
Specifications
Series name
S-57GD
S-57GS/GN
S-57TZ
S-57RB
Omnipolar switch
Unipolar latch
ZCL detection
Bipolar latch
Power supply voltage range
VDD=2.7V to 26.0V
Output logic
Active="L"
Active="H"
VOUT="L" at S pole detection
VOUT="H" at S pole detection
Output form
Nch open-drain output
Nch driver + built-in pull-up resistor (1.2 kΩ typ.)
Zero crossing latch point
–
BZ=0.0mT typ.
–
Magnetic sensitivity
3.0mT, 6.0mT,
10mT, 15mT
–
0.5mT, 2.2mT,
3.0mT, 6.0mT, 10mT
Chopping frequency
500kHz
Output delay time
16.0μs typ.
8.0μs typ.
Operation temperature range
Ta=−40°C to +150°C
Datasheet