3/2/2021
Techanalye Co.,Ltd.
ABLIC Inc. is an analog IC manufacturer that was established from the semiconductor division of Daini Seikosha Co., Ltd. (the present-day Seiko Instruments Inc.). How did this company, which started with the development of CMOS ICs for watches, achieve the world's highest precision, high reliability, and low current consumption in the field of power management ICs? And what kind of efforts will be continued? This time, I interviewed Mr. Minoru Sudo, who has been involved in the development of ABLIC's power management ICs since their founding and who is currently in charge of development as a chief specialist, about the history of ABLIC's power management ICs from their birth to the present.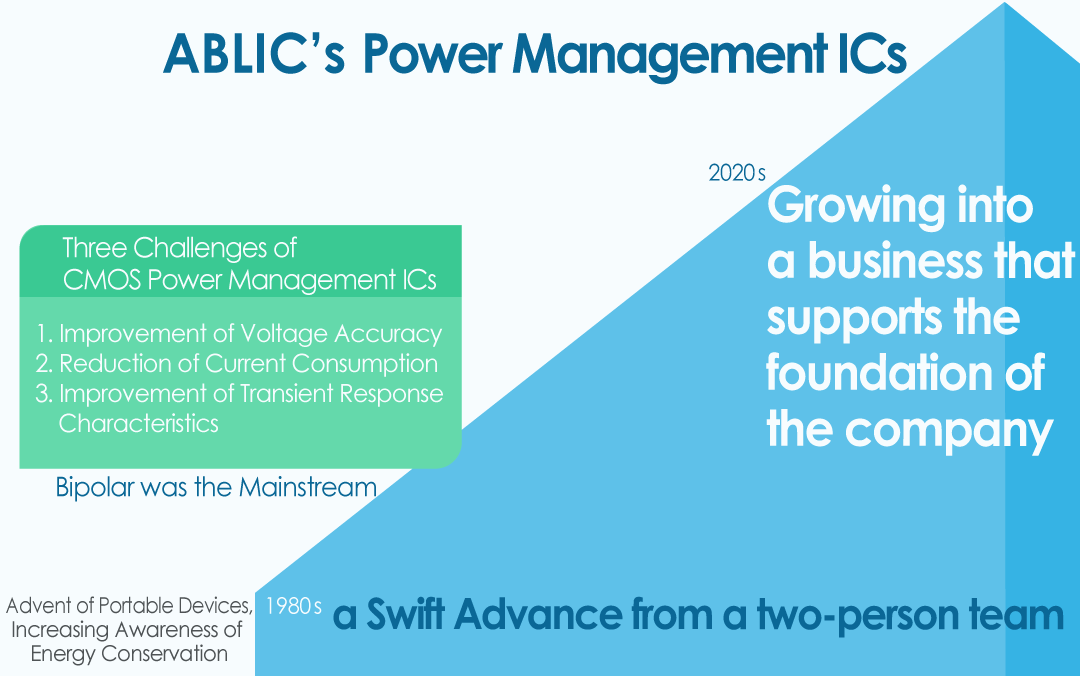 In the 1980s, bipolar ICs played a leading role in power management ICs. CMOS power management ICs have problems such as large characteristic fluctuations due to manufacturing variability, small output current, and poor transient response. However, the development of battery-powered portable devices such as the Walkman moved ahead, and awareness of energy conservation was also growing. Fortunately, advances in semiconductor technologies have created a lot of applications that do not require much output current, while demand for power management ICs with lower current consumption has become stronger. As an ABLIC (At that time, Seiko Instruments & Electronics Ltd.) having a low-voltage, low-current consumption CMOS IC for watches in its DNA, there were strong demands for the CMOS power management ICs that consume less power than bipolar circuits. In 1987, however, the power management IC team consisted of my boss who had been transferred from the clock division and me. The challenge started with 2 people in total. Today, ABLIC's power management ICs are a mainstay business, accounting for more than half of our sales. The reason for this growth was the existence of three innovative technologies.

*Laser trimming・・・Technology that adjusts the performance of an IC by cutting arbitrary patterns of the IC with a laser.
CMOS ICs have a problem that it is difficult to increase the accuracy of the output voltage and the detection voltage of the power management ICs because of the large manufacturing variability (threshold voltage variability) compared with bipolar ICs. To solve this problem, ABLIC has introduced a laser trimming system. In addition, a laser trimming method was devised in which fuse elements capable of adjusting the resistance value of resistance elements are prepared on a semiconductor wafer and adjusted according to the characteristics of each chip. This makes it possible to increase the accuracy of the output voltage and detection voltage. Incidentally, using this laser trimming technology, it has become possible to produce multiple products on a single wafer. Even today, this technology is used to provide high-precision power management ICs with an output voltage and detection voltage accuracy of ±1.0% or less.

CMOS ICs have the advantage of easier to achieve low power consumption than bipolar ICs. However, as the current consumption of the circuit connected to the load decreases, the demand for further reduction in the current consumption of the power management ICs for driving the circuit increased. Since there are multiple analog circuit blocks in the power supply circuit, the power management ICs can be further reduced in current consumption by turning on (working) only necessary circuits and turning off (stop) unnecessary circuits in accordance with the operating conditions. This technology is still used in many power management ICs.

*Overshoot Voltage・・・Phenomenon when the power is turned on, the output voltage exceeds the steady state value.
CMOS ICs have poor transient response characteristics compared to bipolar ICs. In particular, the problem with linear regulators is that the overshoot voltage generated when the power is turned on may damage the ICs connected to the load. ABLIC has developed a linear regulator that suppresses the occurrence of overshoot voltage. Now we provide high reliability automotive-grade linear regulators.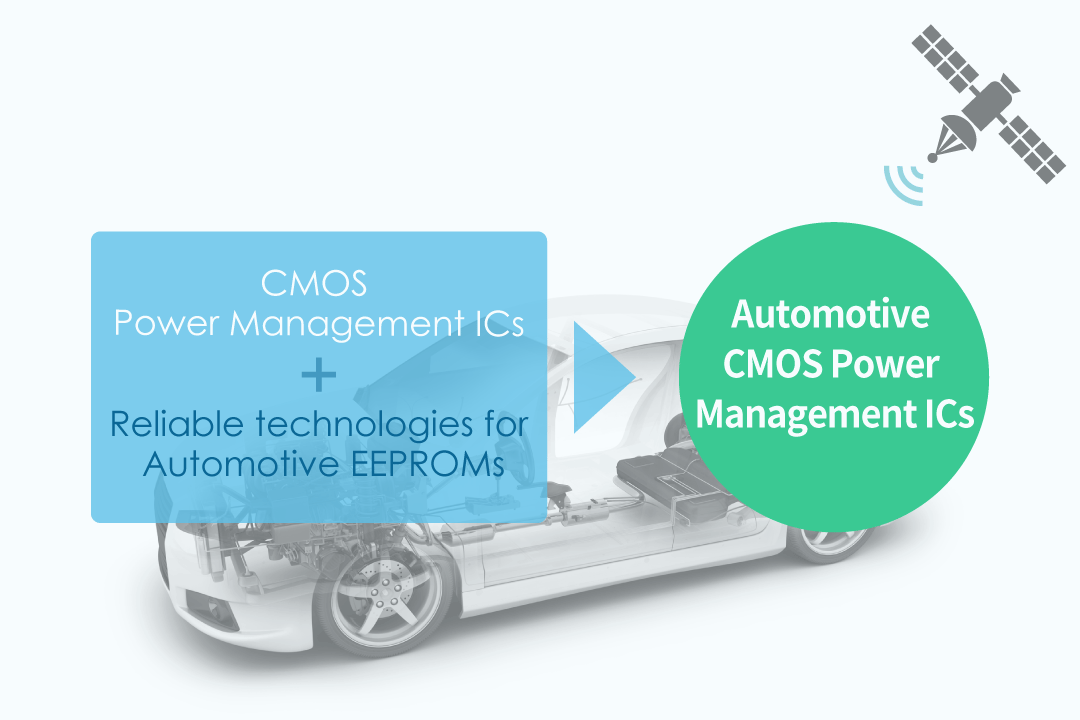 Unique high reliability is required for automotive applications. ABLIC was one of the first companies in the field of EEPROM to provide high reliability products for automobile use and was highly regarded by customers. We were able to rapidly develop in-vehicle products by applying these technologies to power management ICs. In 2009, when bipolar ICs were the mainstream in automotive power management ICs, we achieved a low current consumption of 4.0μA, which was epoch-making for automotive linear regulator ICs at that time. We currently offer a wide range of automotive power management ICs, from Switching Regulators to Lithium-ion Battery Protection ICs. In the future, we hope to expand these technologies to fields that require higher reliability.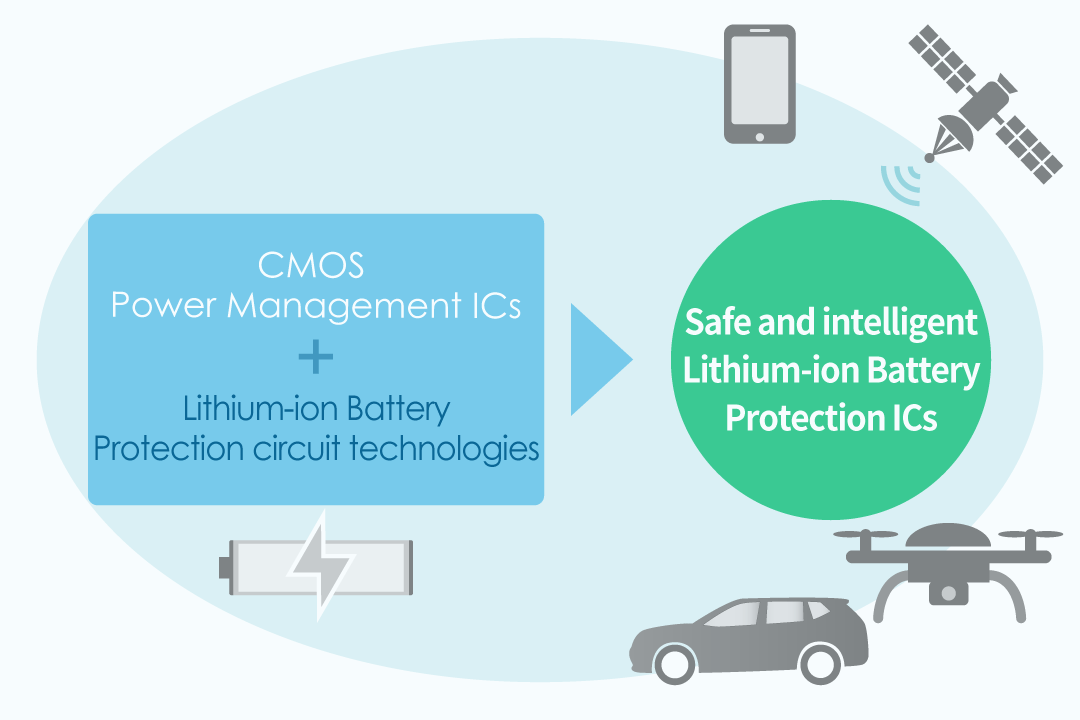 In fact, ABLIC was the first company which developed lithium-ion battery protection ICs for commercial use. It is installed in the digital video camera made in Japan released in 1993. To use lithium-ion batteries safely, charge and discharge must be controlled properly, and ABLIC is succeeded developing the lithium-ion battery protection ICs for the first time in the world. Since then, lithium-ion batteries have been used in a variety of fields, including cellular phones, and they now account for one third of ABLIC's sales. We will continue to develop safer and more intelligent battery protection ICs.
Related Information
> ABLIC's Power Management ICs