– Simultaneously provide MCUs with high-current supply as well as voltage and operation monitoring –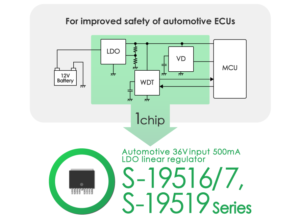 ABLIC Inc. (President: Nobumasa Ishiai, head office: Minato-ku, Tokyo, hereinafter "ABLIC") today launched the S-19516, S-19517 and S-19519 Series of high-current supply LDO linear regulators (*1), which integrate the power supply voltage monitoring (reset) and operation monitoring (watchdog timer) (*2) functions.
Since the new S-19516, S-19517 and S-19519 Series have power supplies equipped with high-current (500mA) LDO linear regulators, they can resolve any issues that a comparable product using switching regulators would face.
The S-19516, S-19517 and S-19519 Series do not generate noise, and require few external components compared to a switching regulator. Since a single chip comprises the LDO linear regulator, reset IC and watchdog timer, these models have a small footprint and few parts, which simplify circuit design. In addition, the IC's ultra-low self-current consumption substantially reduces standby current (*3).
Moreover, the S-19516, S-19517 and S-19519 Series comply with the AEC(*)-Q100 (*Automotive Electronics Council) standards for automotive ICs and are also PPAP (Production Part Approval Process)-capable.
(*1) What is an LDO? What is a linear regulator?
An LDO (Low Drop Out) regulator is a linear regulator that can operate at a very low potential difference between the input and output voltage.
A linear regulator is a power supply IC that can output a lower stable voltage from an input voltage.
https://www.ablic.com/en/semicon/products/power-management-ic/voltage-regulator-ldo/intro/
(*2) What is a watchdog timer?
A watchdog timer (WDT) is a timer that monitors microcontroller programs to determine whether or not they are out of control or have stopped running.
https://www.ablic.com/en/semicon/products/automotive/automotive-watchdog-timer/intro/
(*3) What is standby current?
Standby current is current that flows even when the ignition is turned OFF.


Major Features
High output current makes the device capable of handling the high-current demand of recent microcontrollers!
Window mode improves safety
Housed in a small high heat dissipating package
Equipped with an ENABLE pin that can reset the entire IC to standby
Automotive quality
These series have passed the triple-temperature test (low, normal and high temperature), and meet AEC-Q100 standards—the reliability and quality test defined by the Automotive Electronics Council (AEC). They are also Production Part Approval Process (PPAP)-capable. These factors ensure they are well suited to the harsh environment of automotive applications.
Application Examples
•Monitoring of constant-voltage power supply and microcontrollers for automotive devices
S-19516/S-19517 and S-19519 Series Product Details
https://hub.ablic.com/en/products/s-19516-19517-19519 
Website
ABLIC Inc. became a wholly owned company by MinebeaMitsumi Inc. as of April 30th, 2020.
Contacts
ABLIC Inc.
Masae Onuma
E-mail: pr@ablic.com
https://hub.ablic.com/en/pr-inquiry