Automotive, 125°C operation, 6V window voltage detector
with fast detection response
S-191A/1B/122 Series

Contributes to building greater functional safety
Window detection


Monitors undervoltage and overvoltage

The industry's top class* fast detection response


Improves system safety

Manual reset function


Capable of diagnosing non-safe faults*
Automotive, fast detection response
window voltage detector
S-191A/1B/122 Series
Product Inquiry
The Industry's Top Class* Fast Detection Response and Manual Reset Function
Contributes to Building Greater Functional Safety of Automotive Devices!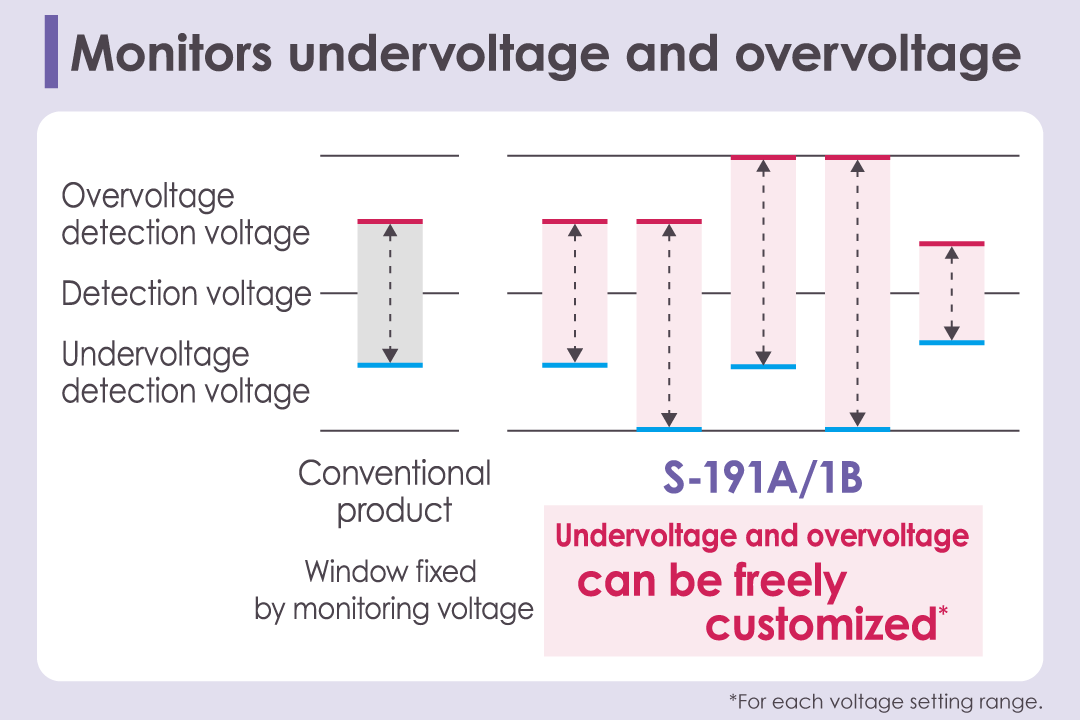 Window detection monitors undervoltage and overvoltage
The S-191A/1B Series is a window voltage detector capable of monitoring undervoltage and overvoltage.
With the S-191A/1B Series it is possible to set the detection voltage for undervoltage and overvoltage separately, enabling flexible proposals according to the specifications and applications.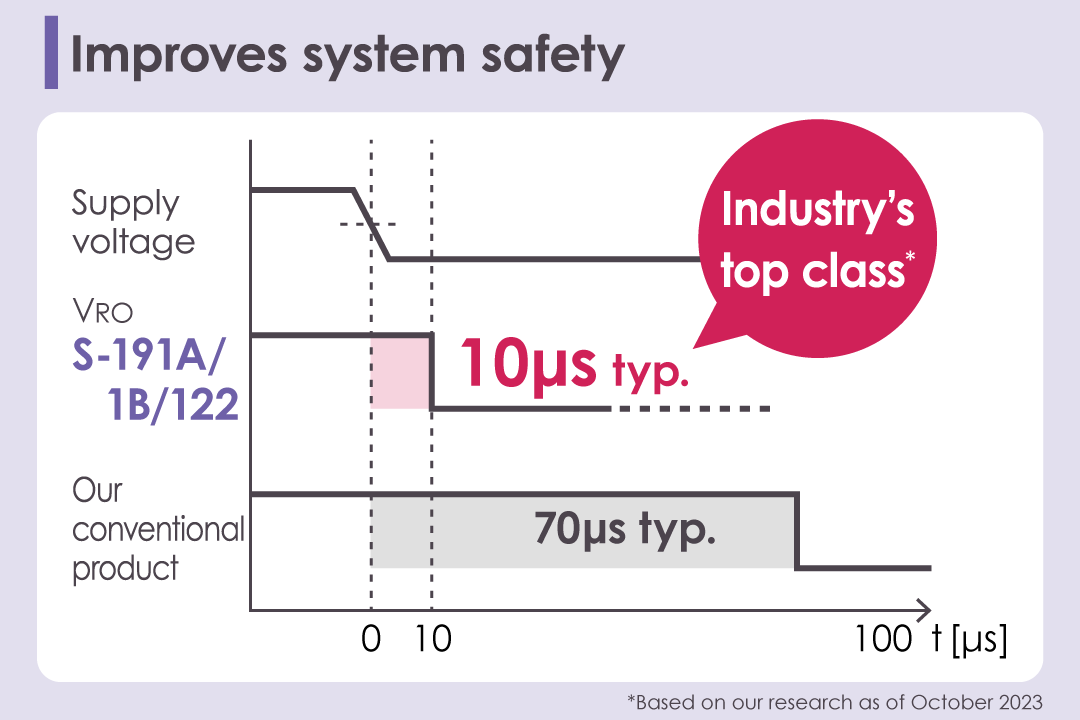 The industry's top class* fast detection response improves system safety
The S-191A/1B/122 Series exhibits the industry's top class* voltage detection response time of 10µs typ.
Shorter voltage detection response times enable quicker detection of voltage abnormalities of the monitored object, which improves system safety by enabling faster output of detection signals to the microcontroller.

The current consumption of the S-191A/1B Series is as low as 1.5μA typ. and the S-19122 Series is as low as 1.2μA typ. during operation. It contributes to lowering the overall system standby current despite its fast detection response.
*Based on our research as of October 2023.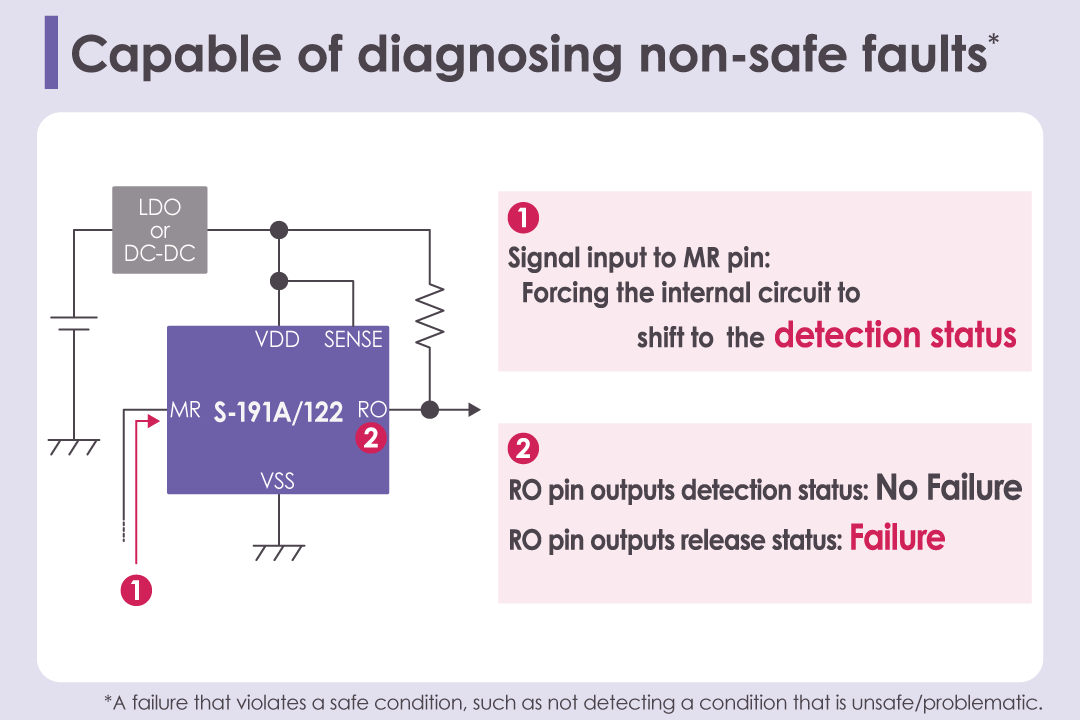 Manual reset function capable of diagnosing non-safe faults*
The S-191A/122 Series has a manual reset function that enables the diagnosis of non-safe faults* of the IC.
The manual reset function changes the comparator input voltage of the internal circuit, forcing the detector to shift to the detection status. By monitoring the output of the IC in this status, it is possible to diagnose whether there is any failure such as "internal circuits stuck in the release status" or "abnormal output function".
In addition, the S-191A/1B/122 Series is housed in an ultra-compact 1.6×1.6×t0.41 (max.) mm HSNT-8(1616)B automotive package that reduces the footprint of this series by about 70% over our conventional products.
*A failure that violates a safe condition, such as not detecting a condition that is unsafe/problematic.
Automotive Voltage Detectors (Battery Monitoring & Reset ICs) Product Lineup
Specifications
Product name
S-191A
S-191B
S-19122
 
Automotive
Operation voltage range
2.5V to 6.0V
2.5V to 6.0V
2.5V to 6.0V
Undervoltage detection voltage
0.6V to 4.9V
0.6V to 4.9V
0.6V to 4.9V
Overvoltage detection voltage
0.7V to 5.5V
0.7V to 5.5V
–
Detection voltage accuracy
±1.5%
±1.5%
±1.5%
Detection response time
10.0μs typ.
10.0μs typ.
10.0μs typ.
Function
Manual reset
–
Manual reset
Current consumption during operation
1.5μA typ.
1.5μA typ.
1.2μA typ.
Package
HSNT-8(1616)B, SOT-23-6
Automotive quality
AEC-Q100 in process, PPAP capable
Operation temperature range
Ta = −40°C to +125°C
Datasheet