The ABLIC Inc. HDL6M06531B is low charge injection 32-channel high-voltage analog switch IC operated only by a single 5V for ultrasound imaging applications.
The HDL6M06531B consists of single-pole, double-throw (SPDT) analog switches controlled by Serial Digital Interface (SDI).
The HDL6M06531B does not require any high-voltage power supply and has a unique pin-out for easy PCB traces.
Functions
32-channel high-voltage SPDT analog switch with active ground clamp (2:1 MUX / DEMUX)
Features
0V to ±100V analog signal voltage range (10kHz to 20MHz signal frequency range)
2A peak analog signal current per channel
8Ω main switch on-resistance
40kΩ bleed resistor on probe side
32-bit shift registers
Low on/off-capacitance
10pC charge injection to 1000pF
-52dB off-isolation at 5MHz (load-independent)
-60dB switch crosstalk
35Ω ground clamp switch on probe side alternately turned on/off with main switch
DS_ASW to disable 35Ω ground clamp switch
1.8V to 5V CMOS logic interface
Single +5V power supply (NO HIGH-VOLTAGE POWER SUPPLY required)
Low power dissipation (static 5mW)
Embedded thermal protection flag indicator
Unique pin configuration for easy PCB traces
RoHS compliant 64-lead 9x9mm QFN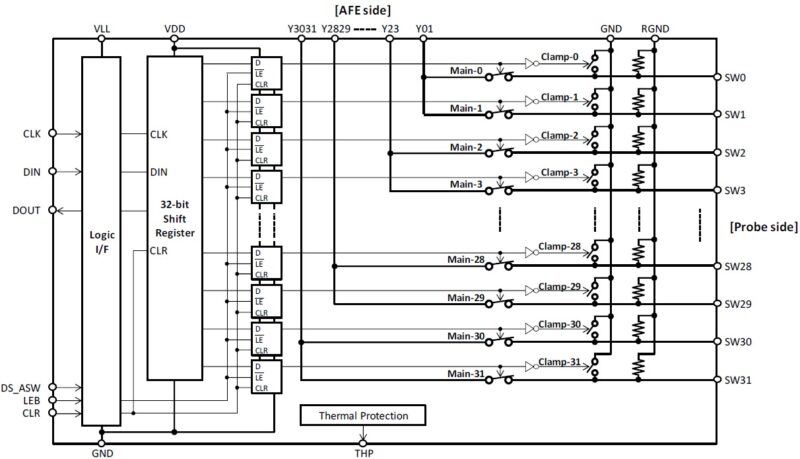 Block diagram