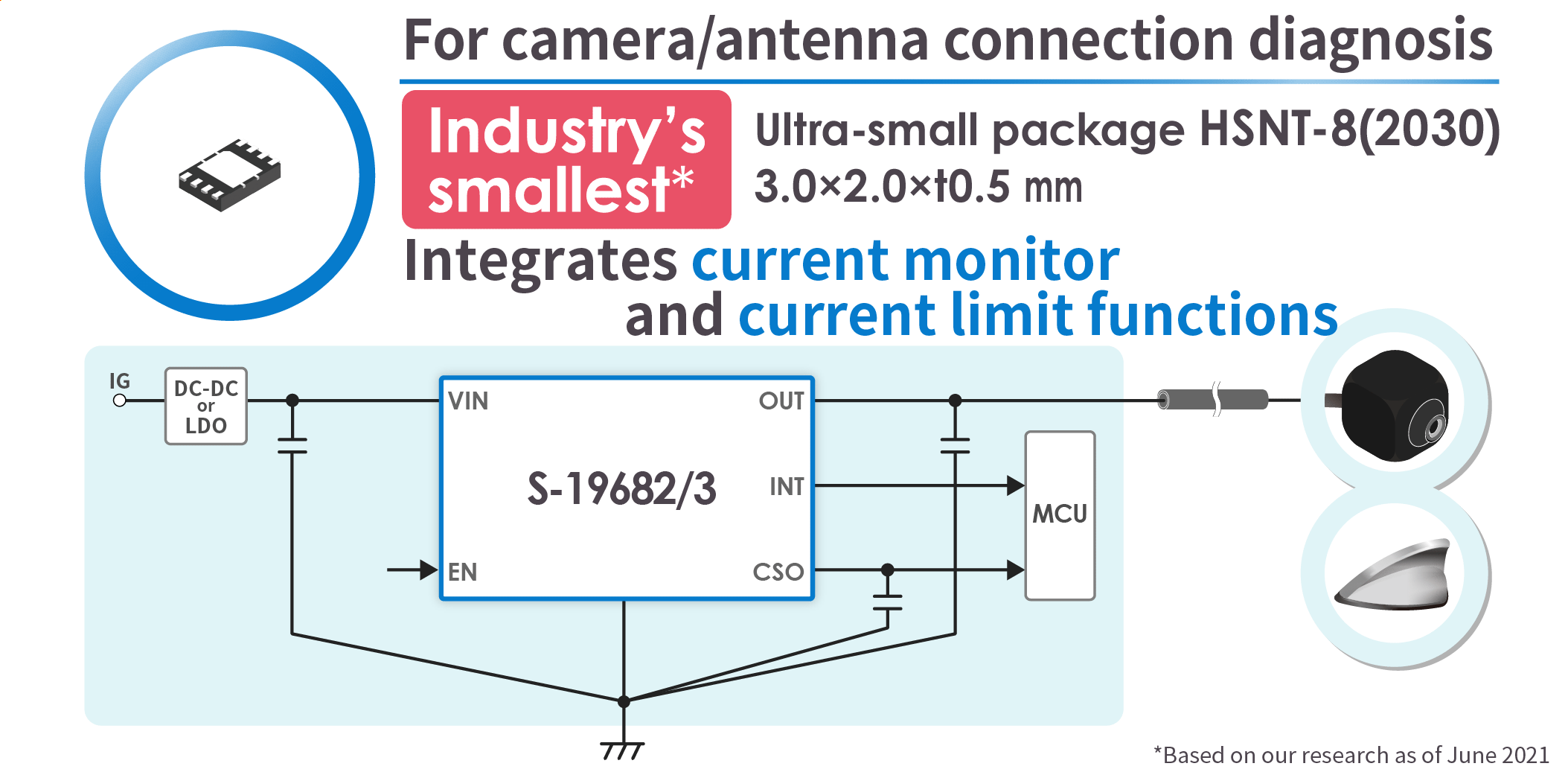 This IC, developed by using CMOS technology, is a high side switch with the current monitor function.
When the Pch output transistor is turned on, voltage is supplied to the load connected to the VOUT pin. The current monitor measures the current flowing to the high side switch, outputs the voltage according to the load current, and limits the current value from exceeding the set value.
In addition, this IC has the ON / OFF circuit to control the Pch output transistor's status, ON and OFF, and the thermal shutdown circuit to limit overheating.
Features
Input voltage

4.5 V to 36.0 V

Current consumption

During operation: 55 μA typ., 95 μA max. (Tj = −40°C to +150°C)
During power-off: 0.6 μA typ., 2.0 μA max. (Tj = −40°C to +125°C)

ON resistance

RON = 0.6 Ω typ., 1.0 Ω max. (Tj = −40°C to +125°C)

Limit current

100 mA to 300 mA, selectable in 10 mA step

Limit current accuracy

±10% (ILIM(S) = 200 mA to 300 mA)

Current monitor function

Possible to monitor load current by monitoring the CSO pin voltage.

Built-in thermal shutdown circuit

Latch type*1, detection temperature 170°C typ.

Build-in overvoltage detection circuit

Detects an output short-circuit of the higher voltage.

Built-in ON / OFF circuit

Ensures long battery life.

Under voltage lockout function (UVLO)

2.6 V typ. (Detection voltage)

Operation temperature range

Ta = −40°C to +125°C

Lead-free (Sn 100%), halogen-free

Withstand 45 V load dump

AEC-Q100 qualified*2
*1. Please contact our sales representatives for products with hysteresis type.
*2. Contact our sales representatives for details.
Applications
Remote LNA phantom power such as GPS antenna
ADAS locator
e-call
Car navigation system
Car audio system