Integrated charge and discharge path circuits | Separate charge and discharge paths circuits
The S-8245C Series are protection ICs for multi-serial cell lithium-ion rechargeable batteries featuring integrated high-accuracy voltage detection and delay circuits. The figure below is a circuit example showing how a cascade connection of the IC can be used to protect an 10-serial cell lithium-ion rechargeable battery pack.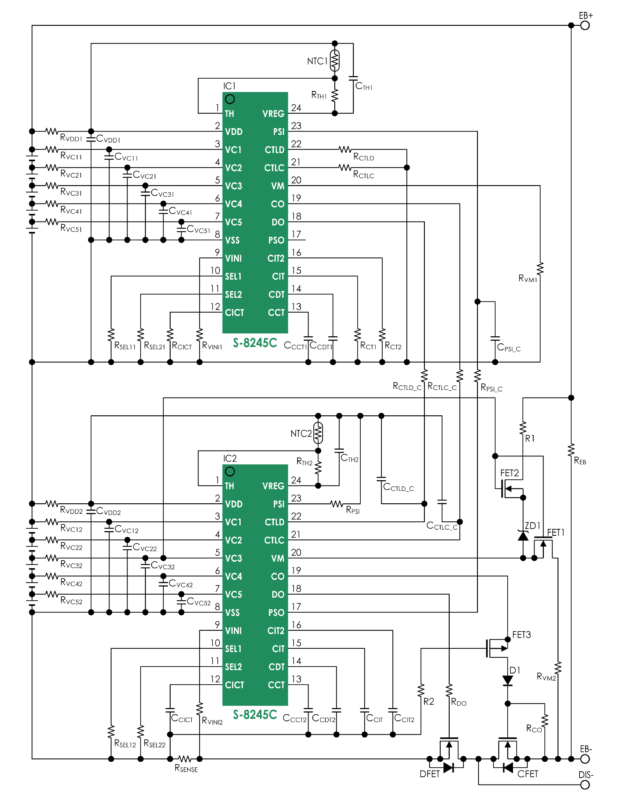 Refer to the application notes for information on design caveats and constants for external components.
Overview
Introducing the S-8245C Series of 10-serial cell lithium-ion rechargeable battery protection circuits in a cascade connection
These ICs are stand-alone products that can protect lithium-ion rechargeable batteries without the need for a microcontroller
The impedance in the discharge path can be lowered by separate charge and discharge paths
Features
Overcharge detection
Overdischarge detection
Three-level discharge overcurrent detection (Discharge overcurrent 1 detection, Discharge overcurrent 2 detection, Load short-circuiting detection)
Charge overcurrent detection
Temperature detection is possible at four different points by connecting an NTC (High temperature detection ratio during charging / discharging, Low temperature detection ratio during charging / discharging)
0 V battery charge function is selectable (Available or unavailable)
Charge/discharge current control employs Nch FET low side control system
Applications
36V battery pack
Cordless gardening tool
Cordless cleaner
Robot cleaner
Portable storage battery
Drone
UPS (uninterruptible power supply)
Electric assisted bicycle (E-bike)
Electric kick scooter
Webshop (Online Samples)
Evaluation boards (Inquiry)
Make inquiries about evaluation boards here.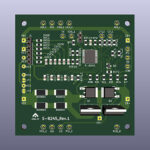 Caution
The above connection example may be changed without notice.
It has not been confirmed whether the operation is normal or not in circuits other than the above connection example. The connection example shown above will not guarantee successful operation.