Automotive, 150°C Operation, 36V Window Voltage Detector
with SENSE Pin Reverse Connection Protection
S-191ExxxxS Series

Issues in building functional safety into ECUs for use in harsh environments
There are no high-quality ICs


that can be used in a high temperature environment of up to 150°C.

Few ICs can guarantee electrical characteristics


in the range of -40°C to 150°C.

There are no ICs with multiple monitoring functions capable of


operating at 150°C.
Industry's first*! AEC-Q100 Grade 0 qualified
The Automotive, high-withstand voltage battery monitoring IC

(window detection)
S-191ExxxxS Series resolves these issues.
Buy Online
The industry's first* AEC-Q100 Grade 0 qualified battery monitoring IC
enables highly reliable voltage monitoring!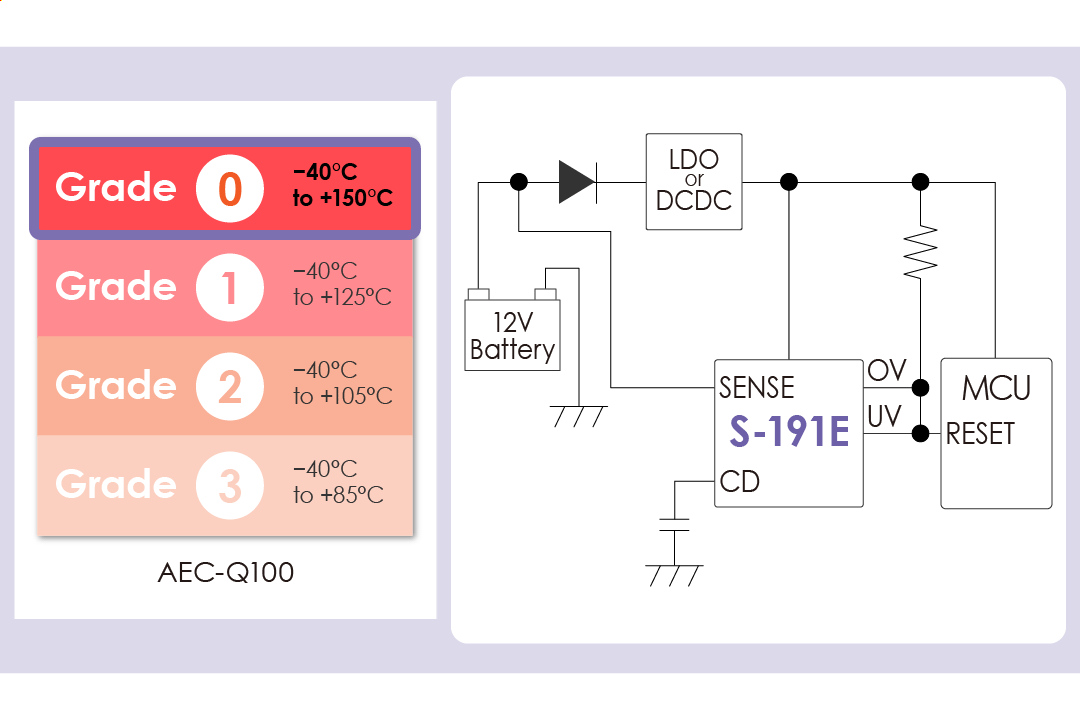 Stable operation even in harsh environments of up to 150°C
The S-191ExxxxS, a battery monitoring IC, is capable of detecting undervoltage that may cause ECU failure or preventing it from functioning altogether and overvoltage that could seriously damage it.
The S-191ExxxxS, the industry's first* AEC-Q100 Grade 0 qualified battery monitoring IC, will provide highly reliable voltage monitoring even in harsh environments of up to 150°C.
The growth of EV / HEV has increased the importance of integrating electronics with mechanics. To make this possible, this IC has been designed to ensure stable operation even when on a board placed in a high-temperature environments.
*Based on our research as of November 2021.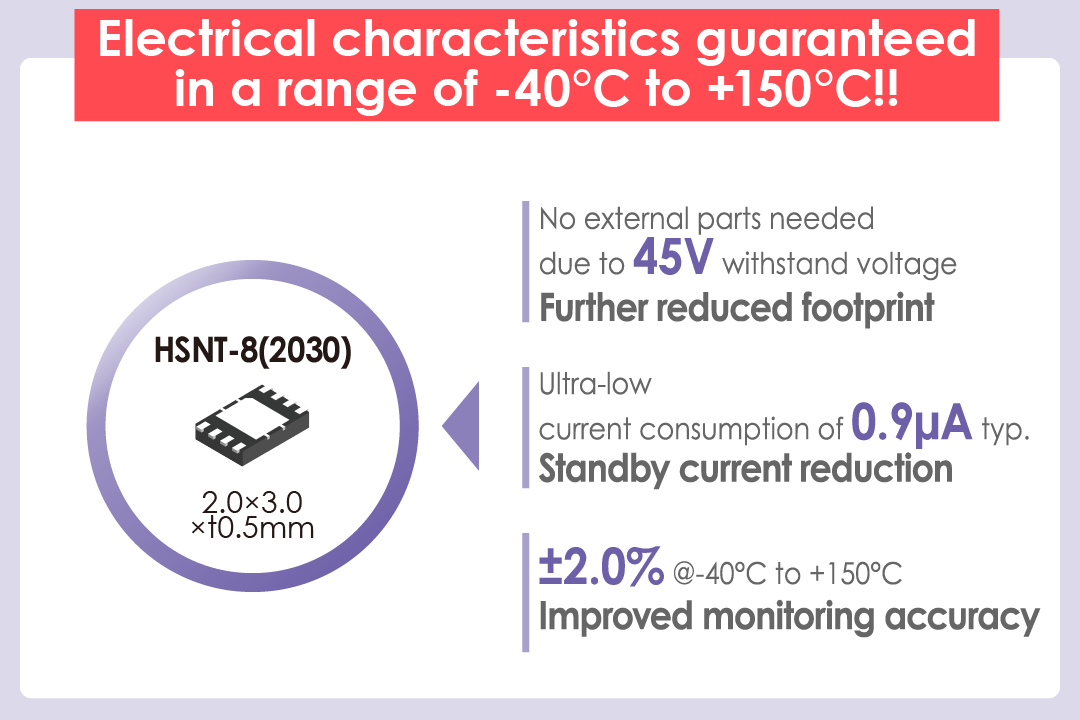 Electrical characteristics guaranteed over wide temperature range
The S-191ExxxxS guarantees electrical characteristics such as current consumption during operation of 0.9μA typ. and a detection voltage accuracy of ±2.0% over a wide range of -40°C to +150°C.
These characteristics lower ECU standby current and ensure high-accuracy voltage detection.
The 45V withstand voltage of the detection voltage input pin (SENSE pin) eliminates the need for external components such as dividing resistors. The use of the small HSNT-8(2030) package also helps reduce the overall footprint.
» Advantages of High-withstand Voltage Battery Monitoring ICs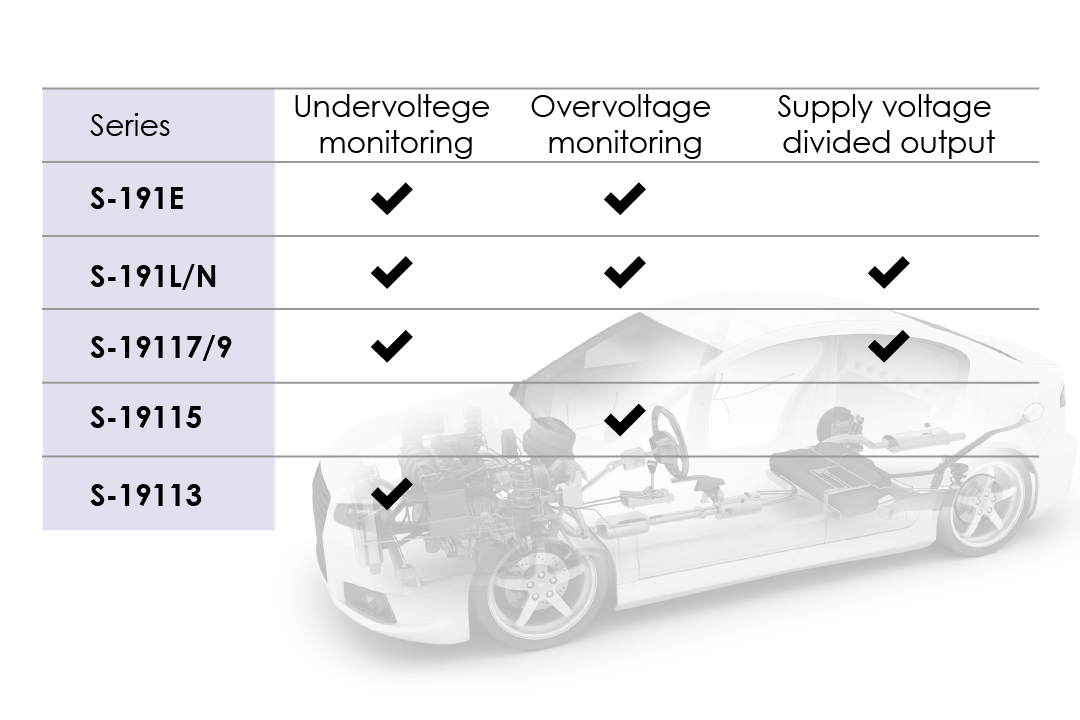 A range of products to meet different monitoring needs
The S-191ExxxxS satisfies both undervoltage and overvoltage monitoring requirements and we also provide a range of other products capable of operating at 150°C to meet a variety of monitoring needs.
We are sure you will be able to find a product tailored to your needs.
Automotive Battery Monitoring IC Product Lineup
Specifications
Product name
S-191E
S-191L/N
S-19117/9
S-19115
S-19113
For Automotive
Operation voltage range

3.0V to 36.0V

Undervoltage detection
4.0V to 10.0V
4.0V to 10.0V
4.0V to 10.0V
–
4.0V to 10.0V
Overvoltage detection
16.0V to 18.0V
16.0V to 18.0V
–
16.0V to 18.0V
–
Detection voltage accuracy
±2.0% (Ta = -40°C to +150°C)
Current consumption
0.9μA typ.
0.9μA typ.
0.75μA typ.
0.6μA typ.
0.6μA typ.
Supply voltage divided output
–
1/6, 1/8, 1/12, 1/14
1/6, 1/8, 1/12, 1/14
–
–
Package
HTMSOP-8,
HSNT-8(2030)
HTMSOP-8,
HSNT-8(2030)
HTMSOP-8,
HSNT-8(2030)
SOT-23-5,
HTMSOP-8,
HSNT-8(2030)
SOT-23-5,
HTMSOP-8,
HSNT-8(2030)
Automotive quality
AEC-Q100 qualified
PPAP capable
Operation temperature range
Ta = -40°C to +150°C
Datasheet
Application note
–