Automotive, 125°C operation, 36V input, 1A, Low EMI,
synchronous step-down switching regulator
S-19914/5 Series

Automotive ECU / module issues

Lower noise switching regulators that do not interfere with wireless devices

Smaller automotive ECUs / modules needed to cope with the ever-increasing number of automotive ECUs / modules


Built-in spread spectrum clock generation circuit, the industry's smallest package*
S-19914/5 Series
promises to solve these issues.
Buy Online
Reduces conducted emission to about 1/3. Ideal small single chip.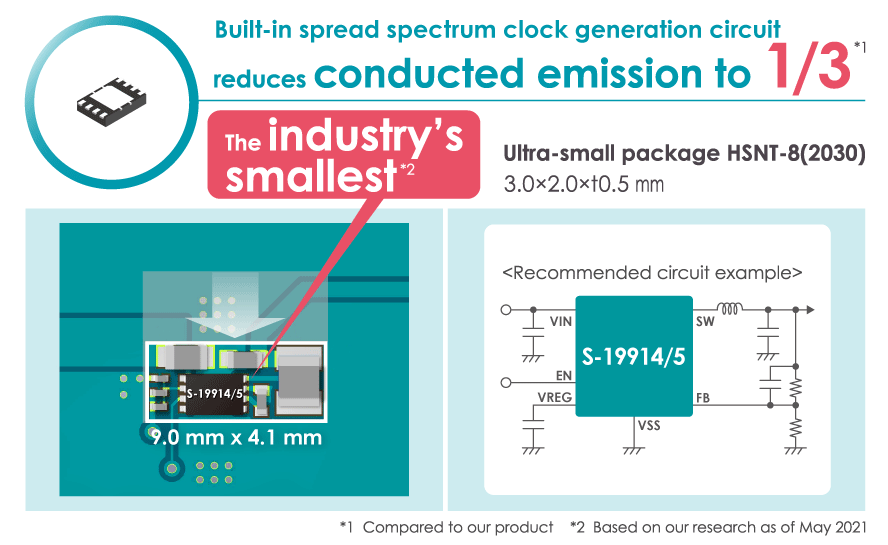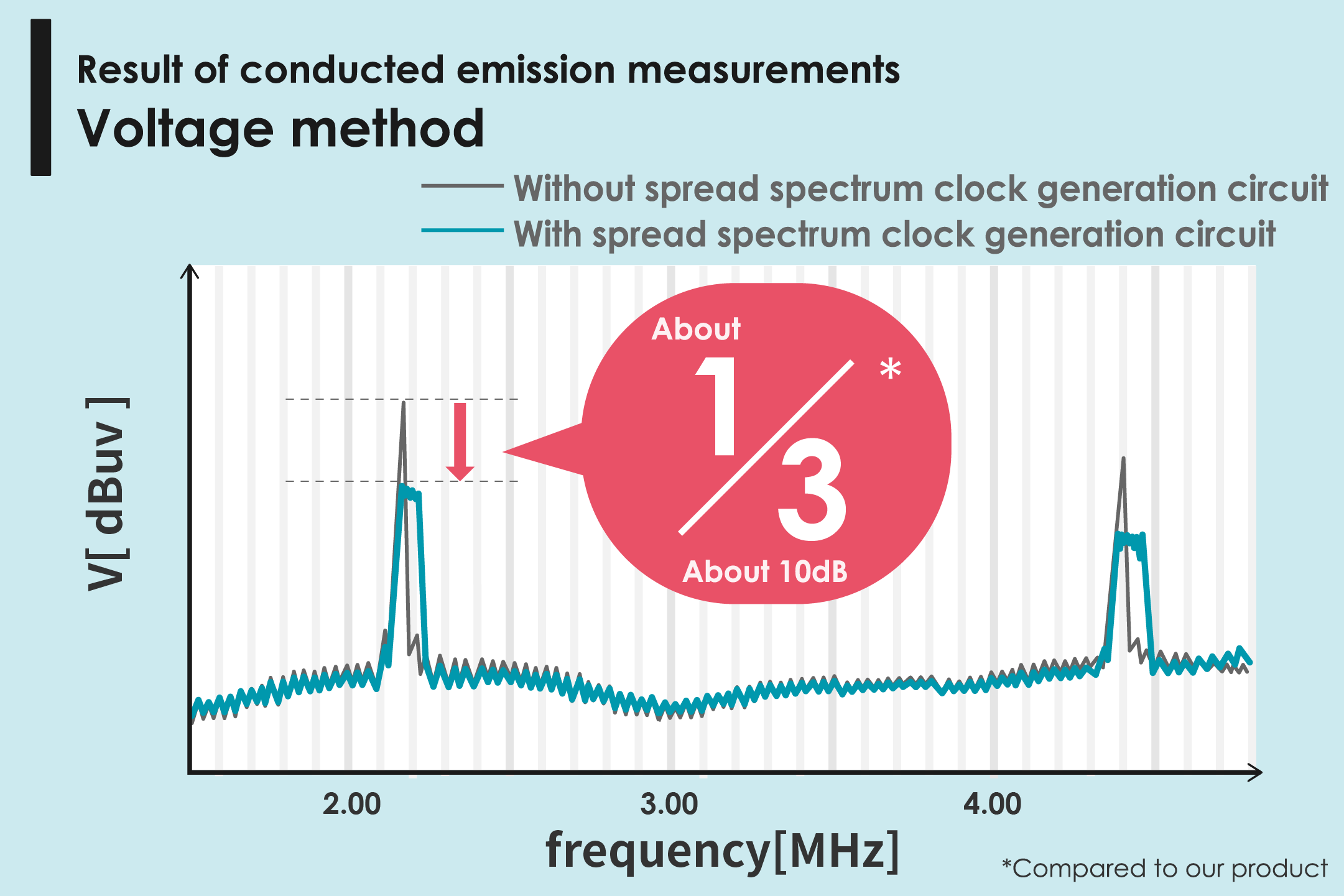 Reduces noise
S-19914/5 Series comes with a built-in spread spectrum clock generation circuit to reduce conducted emission and radiated emission.
The circuit spreads the operating frequency range across a wide bandwidth during PWM operation to suppress noise peaks for specific frequency ranges.
This reduces noise to about 1/3 of our conventional products.
S-19914/5 Series simplifies noise countermeasures and contributes to low-noise automotive cameras and ECUs.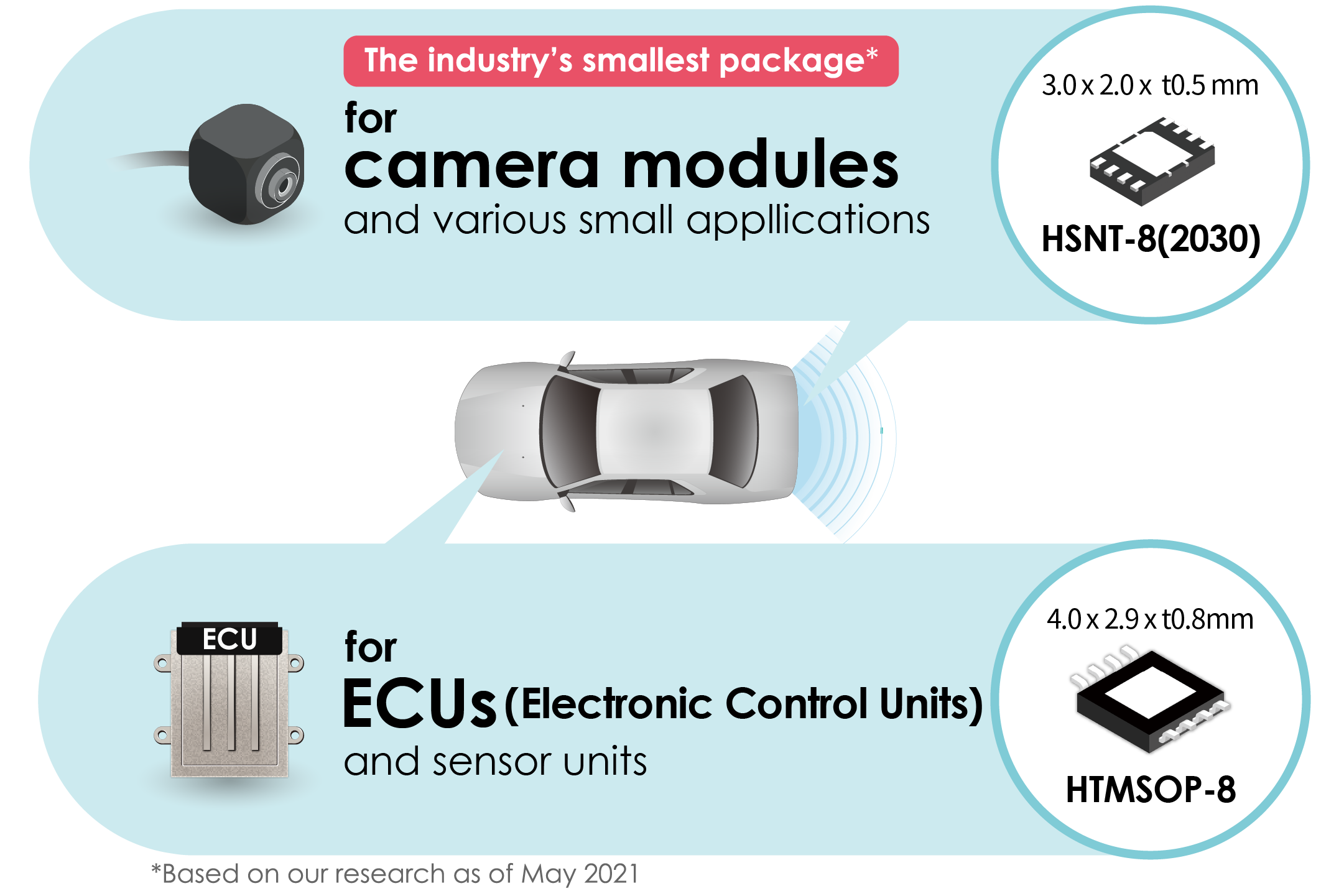 Industry's smallest* ultra-small package
An automotive-grade switching regulator (DC-DC converter) with a 36V input capable of direct connection to a battery, 1A output current and synchronous rectification housed in an HSNT-8(2030), the industry's smallest package*.
Thanks to an ultra-small package and an oscillation frequency of 2.2MHz, the total mounting area is the industry's smallest.
Our lineup also includes the HTMSOP-8, a gull-wing package, when mountability is a prime concern.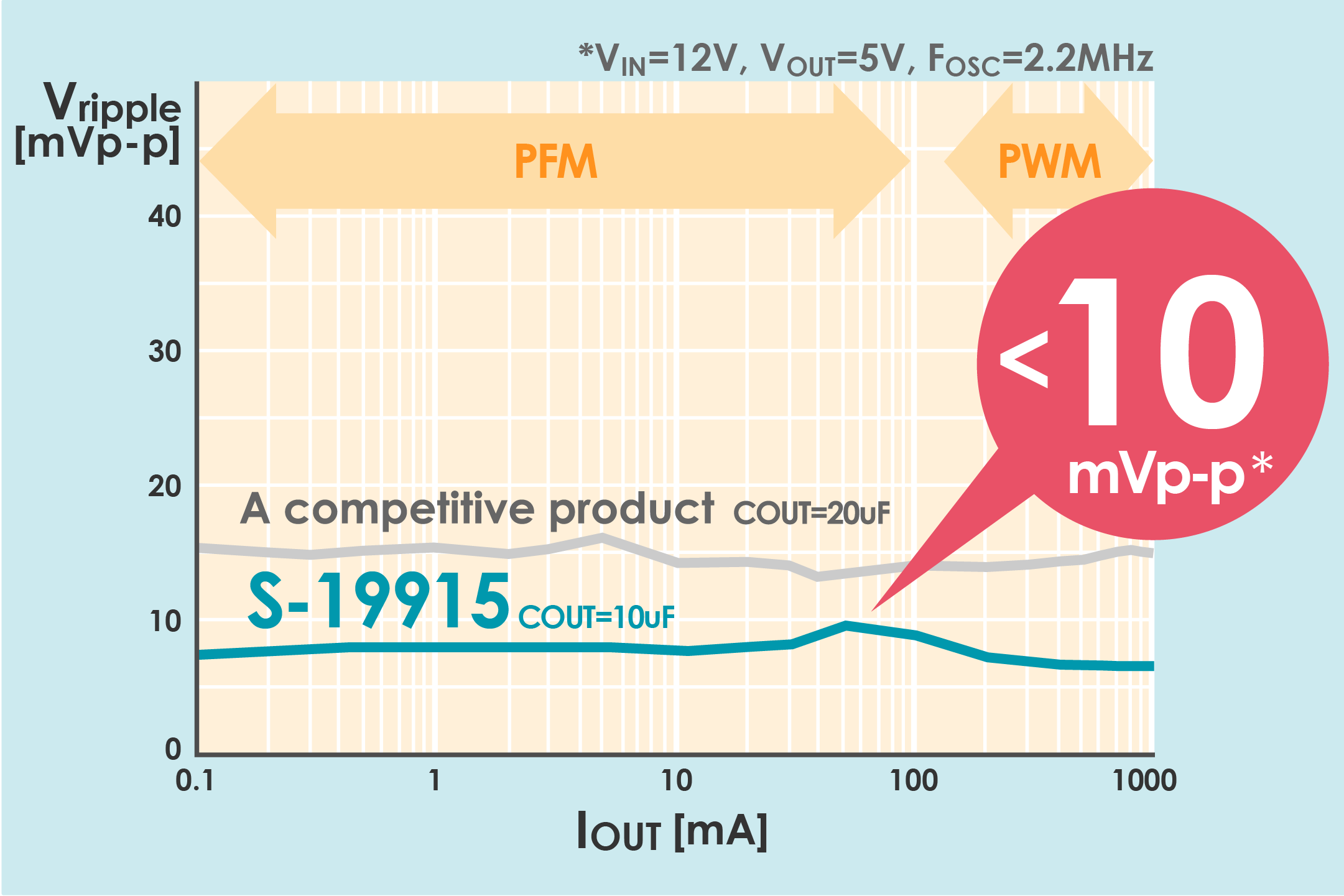 Facilitates ripple countermeasures
S-19915 Series employs a proprietary low-ripple circuit that ensures low ripple without any external parts.
Other company products with similar functions recommend use of 20µF output capacitors. However, S-19915 Series makes do with output capacitors with half the capacity of 10µF while generating 10mV or less ripple across the full load current range during PFM control as well as PWM control.
S-19915 Series therefore not only shrinks the size of output capacitors, but also lowers costs.
Applications
Automotive camera
View Camera Module
Sensing Camera Module
Drive Recorder
Camera ECU
Check application examples in the block diagram≫
Electrical application for vehicle interior
Rear View Mirror
Head Up Display
Mood Lamp
Automotive use
Motor Driver
Security Sensor Module
Sensor unit
ECU (Electric Control Unit)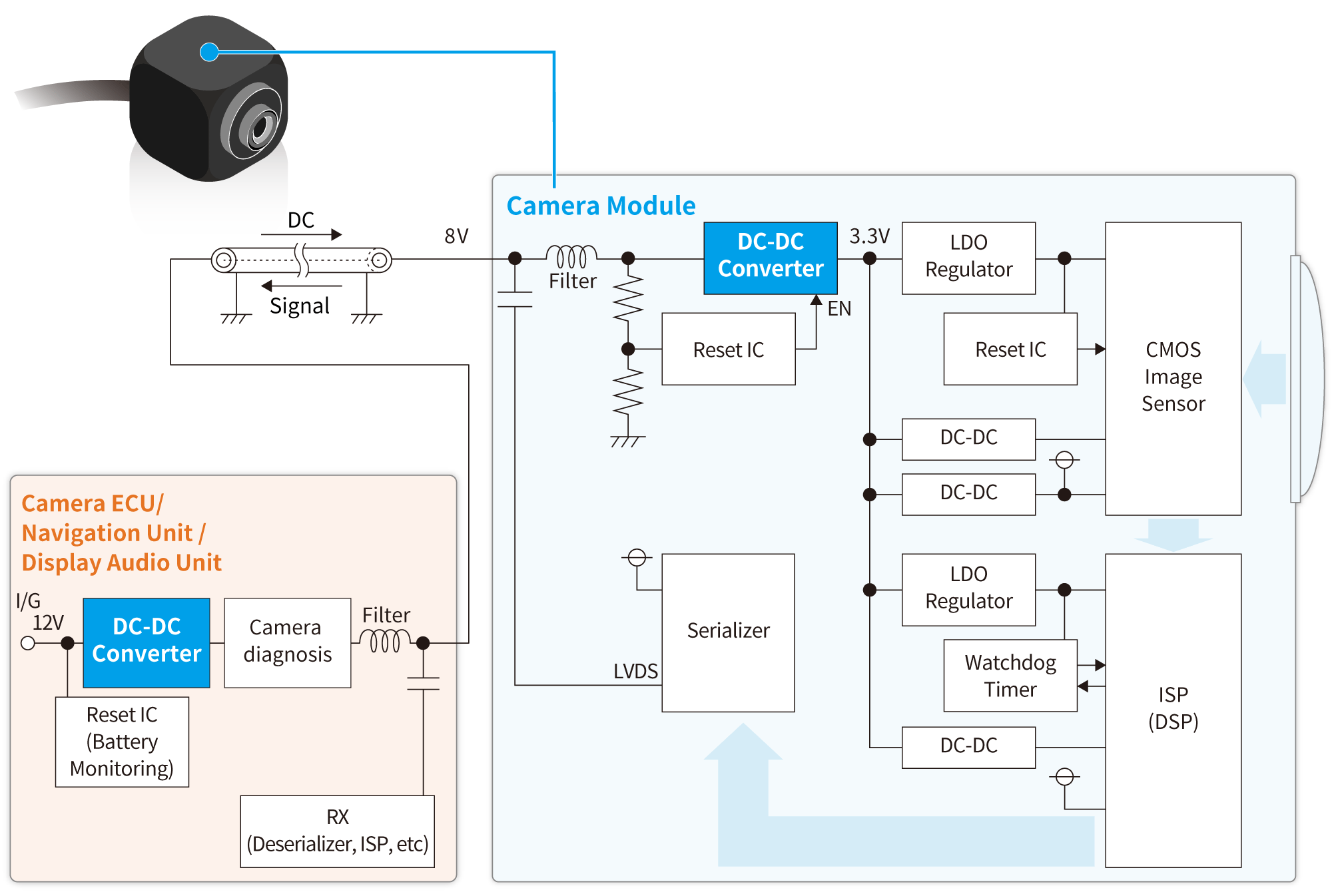 ABLIC's automotive switching regulator lineup
Specifications
Product name
S-19914 A/B
S-19915 A/B
 
Automotive
Control method
PWM
PWM / PFM switching
Oscillation frequency
2.2MHz typ.
Input voltage
VIN = 4.0 to 36.0V
Spread spectrum clock generation function
FSSS = +6% typ. (Diffusion rate)
FB pin voltage accuracy
±1.5%
Efficiency
91%
Overcurrent protection function
 1.85A typ. (pulse-by-pulse method) 
Thermal shutdown function
170°C typ. (detection temperature)
Short-circuit protection function
Hiccup control / Latch control (selectable)
Duty cycle
100% Duty cycle operation
Soft-start function
5.8ms typ.
Operation temperature range
Ta = −40°C to +125°C
AEC-Q100
Qualified
Datasheet
Application note