Automotive 125°C operation 36V input 600mA
Step-down Synchronous Rectification
S-19902/3 Series

Requirements of an automotive camera module
Changed from VGA to 1 or 2 MP


High resolution

Must be blended into the vehicle's appearance


Compact size


Shrinking the size of camera parts
Automotive Switching Regulator
S-19902/3 Series
Buy Online
Reduces the footprint of a switching regulator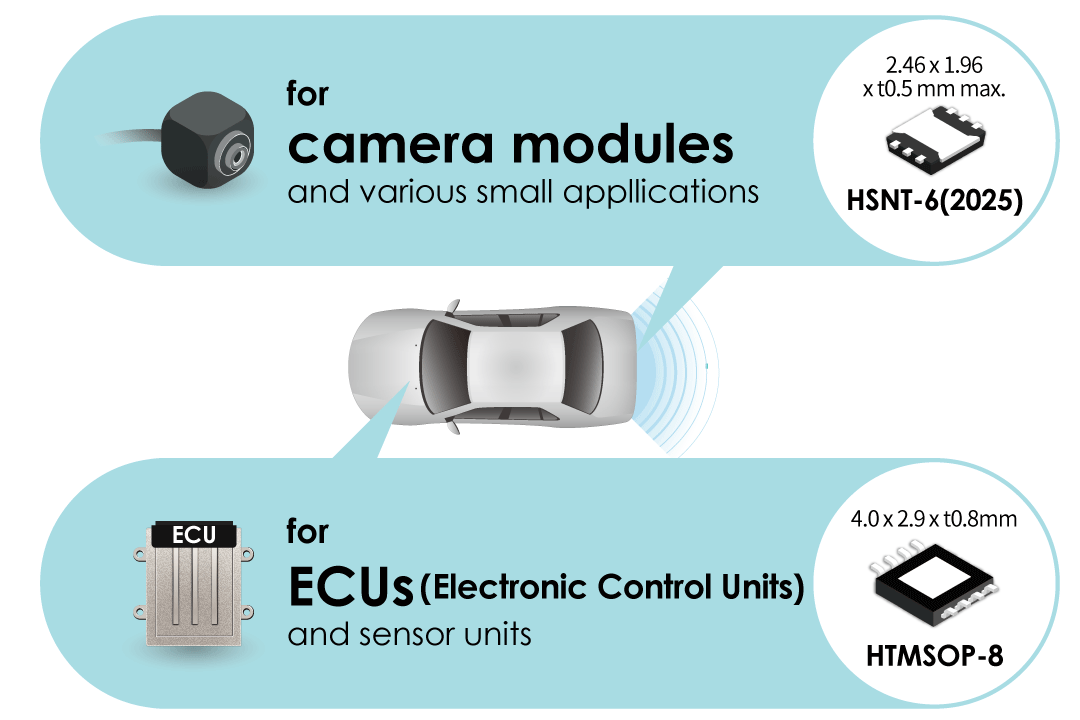 The industry's smallest package
The automotive-quality 36V input, synchronous rectification and 125℃ operation switching regulator (DC-DC converter) , which can be connected to the battery directly, adopt the industry's smallest package (2.46mm x 1.96mm).
In addition, our lineup also includes a gull wing package when mountability is a prime concern.
They can be used in a broad range of applications not only in automotive camera modules where compact size is essential, but also in Electronic Control Units (ECU) and sensors.
*Based on our research as of October 2019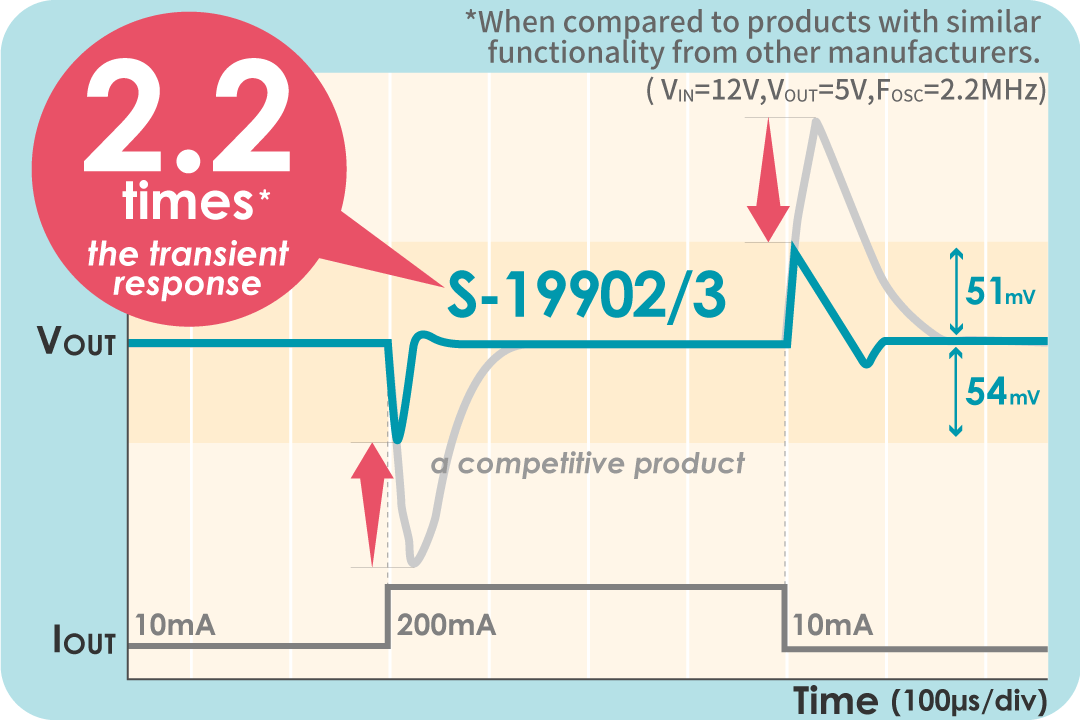 There is no need for a large capacitor
Slope compensation circuits and phase compensation circuits in the S-19902/3 Series have been optimized to provide a high transient response.
The external high output capacitors used to compensate for overshoot and undershoot have been downsized, which has also contributed to lowering costs.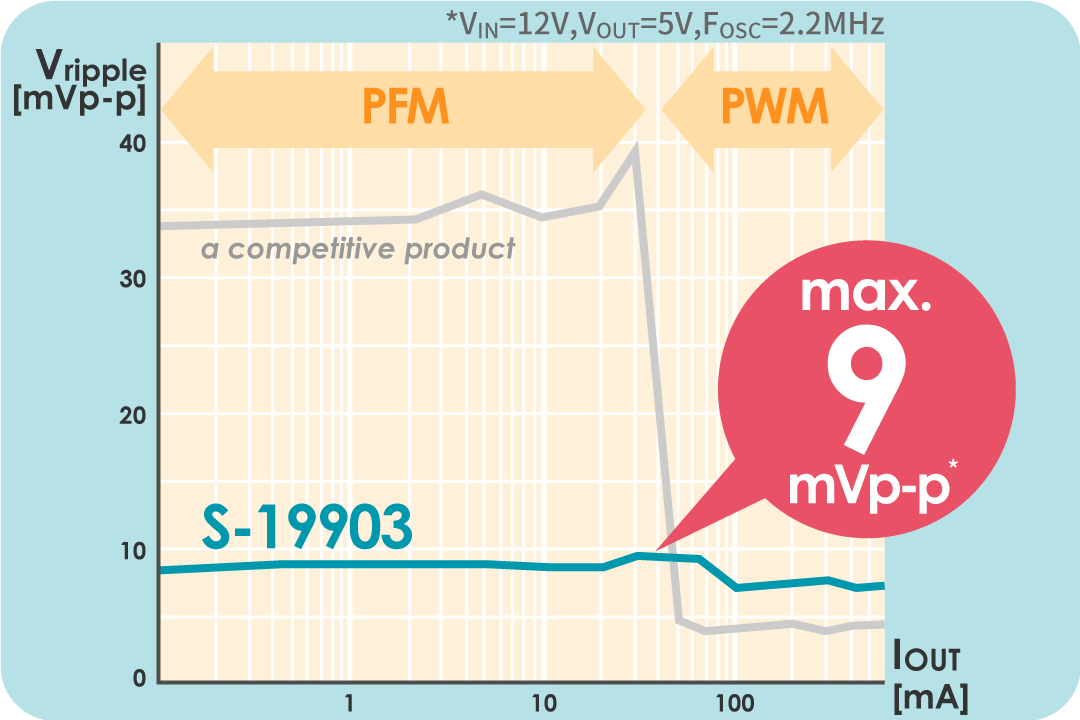 External parts to reduce ripple are not required
The S-19903 Series employs a proprietary low-ripple circuit that ensures low ripple without any external parts.
It achieves 9mVp-p across the full load current range including even during PFM control, which is especially prone to ripple.
There is no need to add external parts as a countermeasure to ripple.
Applications
Automotive camera
View Camera Module
Sensing Camera Module
Drive Recorder
Check application examples in the block diagram≫
Electrical application for vehicle interior
Rear View Mirror
Head Up Display
Mood Lamp
Automotive use
Motor Driver
Security Sensor Module
Sensor unit
ECU (Electric Control Unit)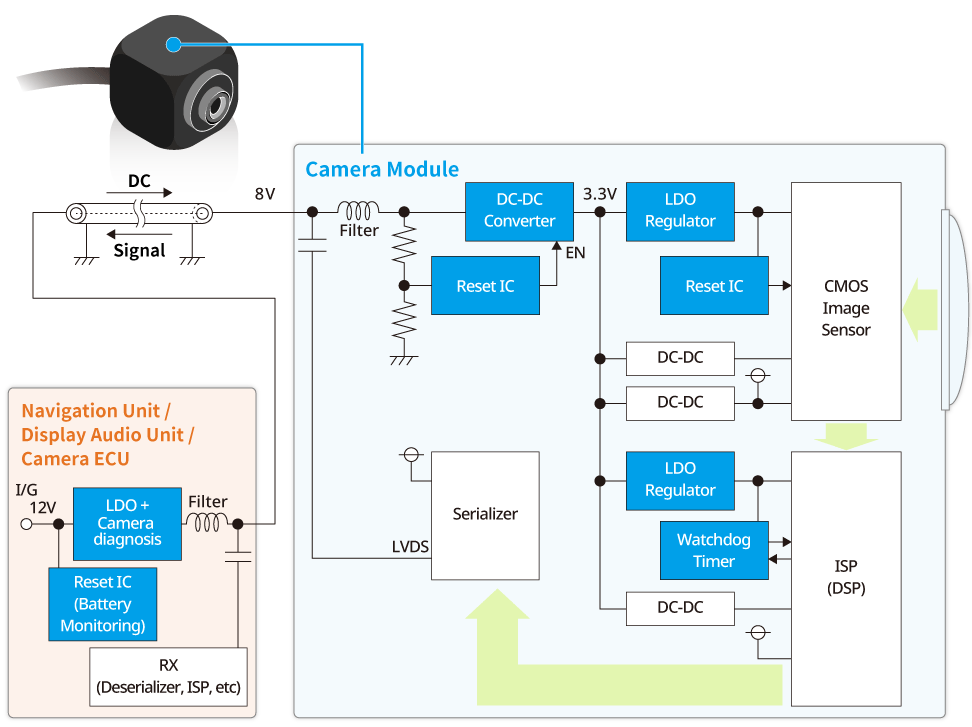 ABLIC's automotive switching regulator lineup
Specifications
Product name
S-19902 A/B
S-19903 A/B
S-19902 C/D
S-19903 C/D
 
2.2MHz
400kHz
Input voltage
VIN=4.0 to 36.0V
FB pin voltage accuracy
±1.5%
Efficiency
91%
95%
Overcurrent protection function
1.2 A typ. (pulse-by-pulse method)
Thermal shutdown function
170°C typ. (detection temperature)
Short-circuit protection function
Hiccup control / Latch control (Selectable)
Duty cycle
100% duty cycle operation 
Soft-start function
5.8 ms typ.
Operation temperature range
Ta = −40°C ~ +125°C
AEC-Q100
Qualified
Datasheet
Application note