Automotive, 125°C Operation, 36V Input, 600mA Voltage Regulator
with Current Monitor And Adjustable Current Limit
S-19701 Series

Challenges posed by connections between automotive cameras, antennas and other electronic systems
Detection of open circuits, short circuits and other


connection faults is desirable

Device multi-functionality has


increased the amount of current required during operation

Safety needs to be improved


using a simple circuit configuration
The connection diagnosis, 600mA output and multiple protection circuits of
the S-19701 Series meet these needs
Product Inquiry
Simple circuit S-19701 improves safety of automotive devices with built-in protection circuits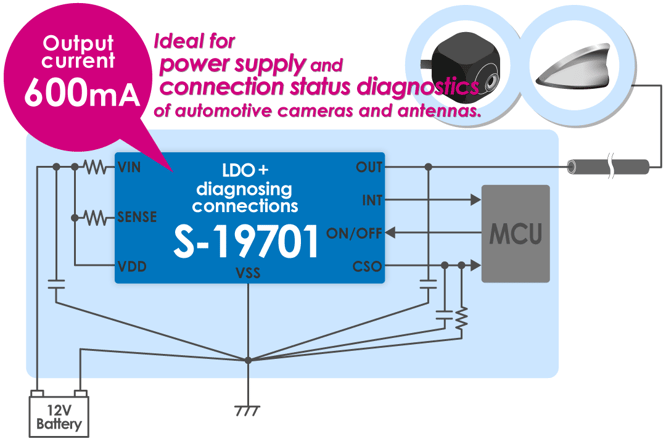 Single chip solution for power supply and connection status diagnostics for various applications
The S-19701 Series of diagnostic ICs is ideal for diagnosing the connection status of automotive cameras, V2X antennas and other devices.
Key features of the S-19701 Series
Built-in LDO functions such as high output current of 600mA and a high accuracy output voltage of ±2.3%.
Can be used as a high side switch.
The current monitor function allows the MCU to diagnose whether devices are operating normally or are open and finds the presence of short to ground and short to power supply faults.
This single chip can handle connection diagnosis and power supply of automotive cameras, antennas and a variety of applications even as they are becoming more multifunctional.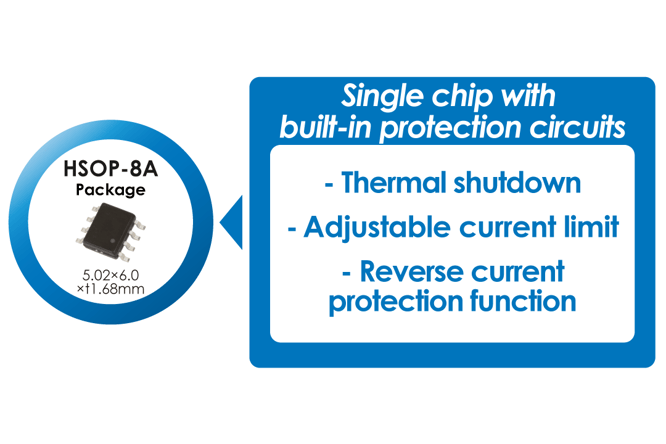 A variety of protection functions provides safety
In addition to the LDO regulator function and connection status diagnosis function, three protection circuits are built in to offer thermal shutdown, adjustable current limit and reverse current protection functions. It also has an overvoltage detection circuit.
Thanks to a simple circuit configuration, the S-19701 Series improves safety of automotive devices with on-chip protection functions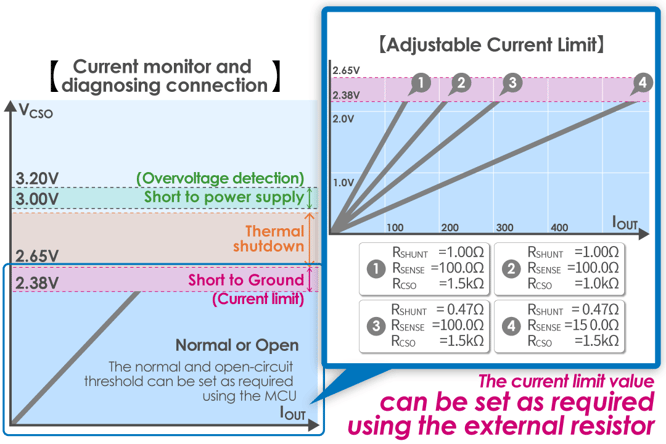 Implements flexible connection diagnosis tailored to load
The S-19701 Series can diagnose antenna connection status (open, normal and short to ground and short to power supply faults) by using the MCU to monitor CSO pin voltage.
Since the value of the external resistor can be changed, the current limit can be set as required. This means connection diagnosis and current limit can be set to accommodate the load of connected devices.
Automotive Connection Diagnosis IC Lineup
Specifications
Product name
S-19701 Series
 
Automotive
Output current
600mA
Output voltage (externally set)
3.3 V to 20.0 V,
settable via an external resistor
Output voltage (internally set)
3.3 V to 15.0 V,
selectable in 0.1 V step
Input voltage
4.5 V to 36.0 V
Output voltage accuracy
±2.3% (1.0 mA≦Iout≦30 mA, Tj = −40°C to +150°C)
Current consumption
During operation : 80 µA typ., 170 µA max. (Tj = −40°C to +150°C)
           During power-off : 1.0 µA typ., 5.0 µA max. (Tj = −40°C to +90°C)           
Package
HSOP-8A
Operation temperature range
Ta=−40°C to +125°C
Datasheet

Please contact our sales office if you request the data sheet.