Quality Policy
Basic Policy

We inspire and satisfy our customers with "Small, Smart, Simple" analog semiconductor products and solutions that make full use of our cutting-edge core technologies.

Activity Policy

We ensure conformance to the quality management system requirements, and implement continual improvement to our quality management system by adopting a process approach and risk-based thinking.
We comply with statutes and regulations, and provide products that satisfy customer requirements.
We implement quality improvement activities with the goal of zero field failures, and aim to achieve the number one position in terms of the product quality of automotive components.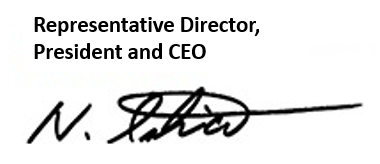 Basic Flow of the Quality Assurance System Quality Assurance System at the Mass production Stage Customer Care Troubleshooting Flow ISO9001 IATF16949 Certification the Product Quality of Automotive Component
ABLIC Inc. is deploying the quality assurance activities in accordance with its Quality Policy and the concept symbolized by the three "PRE": PRESCIENT, PREEMPTIVE, PRECEDABLE; and the three "ACTUAL": ACTUAL SITE, ACTUAL PRODUCT, ACTUAL OUTPUT. ABLIC Inc. strives for the development and manufacture of leading edge CMOS IC products with the highest quality and reliability established by its proprietary technology accumulated during the long history of manufacturing watches. ABLIC Inc.'s CMOS IC products promise low power consumption, low voltage, high-speed, high dielectric strength, and high density. To quickly address to customers' requirements for quality, ABLIC Inc. is more aggressively driving to proceed with IC quality assurance activities that comprehensively cover all stages ranging from design to mass production.
Note: Applicable products on this page are general-purpose ICs and automotive ICs excluding medical device ICs. Click here for inquiries about medical device ICs.