It is pleased to introduce the coverage of Mr. Nobumasa Ishiai, president and CEO from ABLIC by Electronics Weekly as of March 8th, 2023, a leading online media for the electronics industry in the European market as follows.
How to achieve the impossible through Analog Semiconductor Solutions?  "Ask ABLIC"
While the global semiconductor industry is in turmoil these days, one Japanese company is rapidly increasing its presence in the industry, under strong leadership. That company is ABLIC Inc., an analog semiconductor specialist. Its uniqueness stems from the fact that in its early beginnings before it was named 'ABLIC', the company's specialized craftsmanship was born in the semiconductor department of the Japanese watchmaker SEIKO Group. In 1968, this department began in-house development and fabrication of the CMOS (complementary metal-oxide-semiconductor) ICs for quartz watches, based on the production of the world's first practical quartz watches in which CMOS ICs were incorporated.
In 2018, ABLIC Inc. became independent from SEIKO Group and was subsequently established under its current name. The name is made up of the words ABLE (possible) and IC (Integrated Circuit), and the slogan is: "Achieving the impossible through analog semiconductors." Due to its position of having market-leading global shares in various unique product categories, ABLIC can be described as a "hidden champion." Indeed, ABLIC's analog semiconductor products play a major role across various applications in diverse fields such as in-vehicle equipment, medical equipment, IoT/wearable devices, and much more.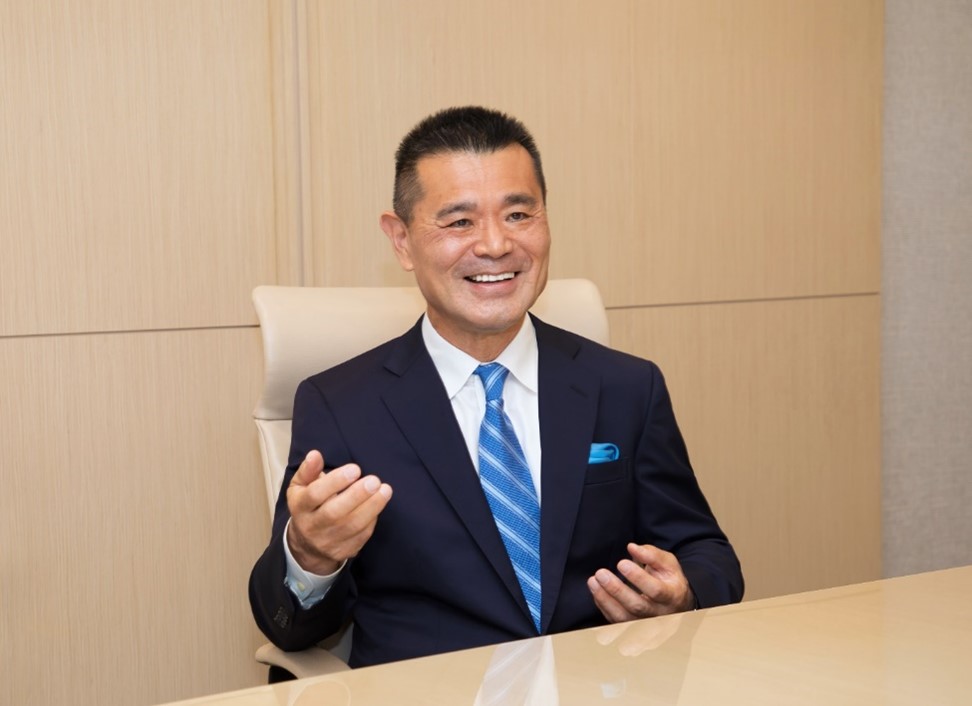 Mr. Nobumasa Ishiai, who has extensive management experience in multinational companies such as GE and Bayer, serves as the Representative Director, President & CEO. Under his leadership, ABLIC is continuously striving for improvement with a sense of haste that is distinctly different from that of conventional Japanese companies.
ABLIC has continued to grow steadily despite the challenges of the pandemic, achieving a high operating profit margin that exceeds the industry average, with a growth rate about three times that of FY 2018. In 2020, ABLIC joined forces with the analog semiconductor business of the MinebeaMitsumi Group, resulting in a collaboration that received high praise. Additionally, as part of its medium-term growth strategy, ABLIC is aiming to achieve dramatic growth by providing innovative solutions in the automotive sector.
According to Mr. Ishiai, the key to ABLIC's growth is focusing on the development of its own staff. Below, he shares more of the specifics behind the company's success, and how ABLIC intends to lead the global field of analog semiconductors for automotive applications.
"The Spirit of Takumi" Trained in Japan's Demanding Automotive Industry
ABLIC has been developing ultra-miniaturization, low power consumption, and high precision technologies through the development and manufacture of CMOS ICs for quartz watches. Continuing to spread the DNA from its predecessor company, ABLIC provides solutions based on its "small, smart, and simple" products. With devices such as lithium-ion battery protection ICs, automotive power supply ICs, magnetic sensor ICs (Hall effect ICs), and EEPROMs; ABLIC is emerging as an analog semiconductor company that "makes the impossible possible."
So where does this spirit come from? Mr. Ishiai explains that it is rooted in "Takumi," a Japanese concept of craftsmanship that represents the highest quality, precision, and utmost care. With this expertise cultivated over the course of a long history, ABLIC applies its unique technology and know-how to create compact, energy-saving, and high-quality products that routinely exceed customers' expectations.
In the automotive industry, ABLIC products are already being used in various applications by major global industry players. Looking back on its history, ABLIC began supplying EEPROMs, a type of nonvolatile memory, to the automotive market in the 1980s. After a successful track record with this product, the company received an offer from a major Japanese automobile manufacturer to provide high-quality, durable EEPROMs. Subsequently, in the 2000s, the company decided to enter the automotive market in earnest. Since then, ABLIC has steadily expanded its product lineup for automotive applications to include power management ICs such as voltage detectors, magnetic sensor ICs (Hall effect ICs), and real-time clock ICs. The EEPROM is especially notable, having achieved the top market share in Japan, with the worldwide share within reach. ABLIC's automotive semiconductors are used in electronic control units (ECUs), battery management systems (BMS), and EV-related applications, which control the core functions of automobiles. ABLIC solutions adopt AEC-Q100 standards, are IATF16949 certified, and have zero defects. This high quality is routinely praised by customers, and ABLIC has received numerous awards from OEMs and Tier 1 companies over the years.
Moving forward, ABLIC is aiming to develop products that respond to the rising "CASE" trend, thus increasing its share of the product lineup supplied to the automotive field. ABLIC's products are made possible through "the spirit of Takumi," which enables compact, low-current consumption power management ICs. Nowadays, the company's ZCL™️ Hall effect ICs(*) for motors and Li-ion battery protection ICs for automotive applications are attracting more attention. Discussions with customers for further development are ongoing.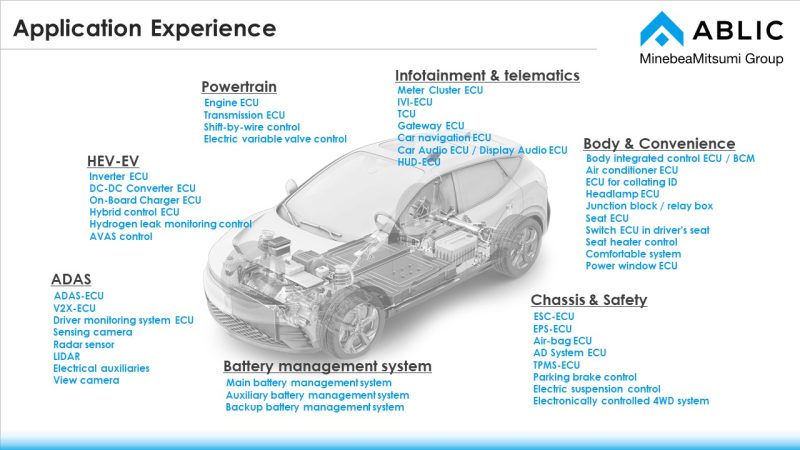 Promising Impressive Customer Experiences through Speed and Flexibility
ABLIC is not only characterized by the products it provides but also by its talented people, who have the engineering skills and flexibility to make the impossible possible while creating synergy with customers as solution partners.
When the Great East Japan Earthquake happened in 2011, it created serious bottlenecks in the supply chain. However, ABLIC was able to restore its equipment in a short period of time in cooperation with affiliates and suppliers, while taking measures such as securing electric power and transportation routes. This allowed for continuous delivery of products where there was a critical need, reinforcing the trust of our customers. Under the current semiconductor supply crunch, the company has yet again been able to offer a stable supply by utilizing several Fabs.
ABLIC has also built a system that emphasizes speed and the ability to respond flexibly to customers' product planning and development. In 2022, the company managed to release new products at an extremely fast rate. This received high praise from our top semiconductor clients, underscoring the company's ability to swiftly respond to industry needs.
Mr. Ishiai highlighted this message of stability, saying that: "We have a sophisticated global team of engineers and business development professionals, and we are ready at all times to offer solutions to companies across the world."
ABLIC's offices in Europe have experts with more than 20 years of experience in the industry. Close cooperation and coordination among ABLIC Europe office, twelve European sales representative offices and Japan allow for swift response times and strong technical support.
Why not just "Ask ABLIC"?
ABLIC is an analog semiconductor solution provider, born from quartz watch IC manufacturing. This DNA and the solutions it spawned from keep on ticking. Mr. Ishiai projects that ABLIC will continue to respond to the needs of the global automotive industry with its "small, smart & simple" solutions and become the best partner for the customers, creating a better future together". This is made possible through a talented global 'one team' that creates superior quality products, embodying the spirit of "Takumi", that can quickly and adaptively respond to pressing market needs.
* ZCL™️ Hall effect IC
A ZCL (=Zero Crossing Latch) Hall effect IC is a latch type Hall effect IC that uses a world first detection methodology to change the output signal at the zero-crossing point where polarity changes. Optimized for brushless DC (BLDC) motors, this Hall effect IC is not thrown off by changes in magnetic flux density and therefore provides stable detection. For more details.
● For further inquiry, contact here.
.