— Low offset voltage of ±5mV contributes to high-accuracy sensing mandatory for autonomous driving!—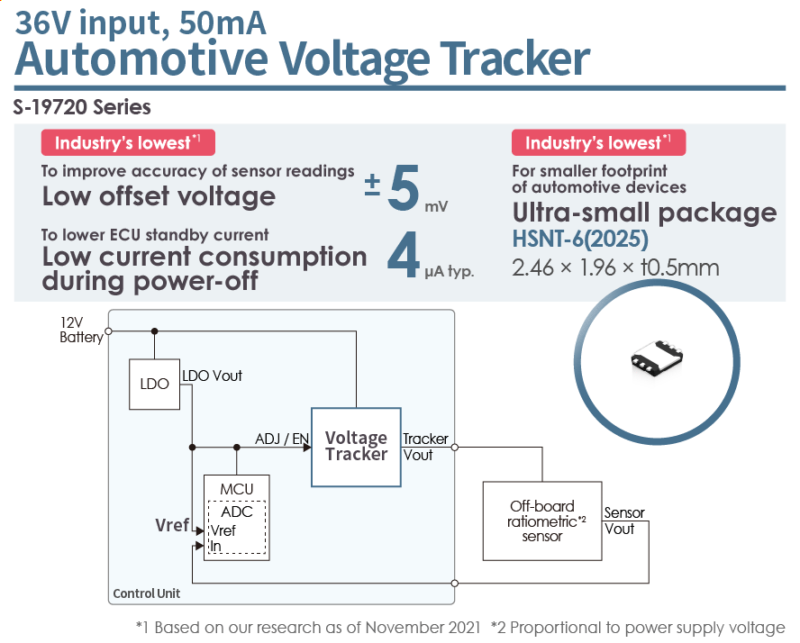 ABLIC (President: Nobumasa Ishiai, head office: Minato-ku, Tokyo hereinafter "ABLIC") today launched the S-19720 Series of automotive voltage trackers.
 The S-19720 Series of voltage trackers launched today comes with the industry's lowest (*1) offset voltage and provide accurate sensor readings in supplying ECU external sensors and components with electricity. Multiple protection circuits that safeguard ECUs even in the event of a wire harness failure help further improve autonomous driving safety.
 The S-19720 Series is housed in an HSNT-6(2025) (1.96 x 2.46 x t0.5mm), the industry's smallest (*2) package, and it is a product that amply meets the ever-increasing need for smaller automotive devices. It is also suitable to lower ECU standby current of a system in intermittent operation because of low current consumption of 4 μA typ. during power-off.
The S-19720 Series is also PPAP (Production Part Approval Process) capable and is going to meet Grade 1 in the AEC(*)Q100 (*Automotive Electronics Council) which is quality standard for automotive ICs.
Major Features 
Industry's lowest offset voltage!
Housed in an ultra-small HSNT-6(2025) (1.96 x 2.46 x t0.5mm), the industry's smallest package
Low current consumption during power-off, the industry's lowest class
Integrates a variety of protection functions
36V input/45V rating
With an input voltage of 36V and a rating of 45V, this high-withstand voltage product can be directly connected to a 12V lead-acid battery.
Application Examples
Power supplies for powering off-board sensors and other automotive applications
Automotive applications such as engines, transmissions, suspensions, ABS, EV/HEV/PHEV

(*1) When operating as a 36V, 50mA output automotive voltage tracker. Based on our research as of November 2021
(*2) Based on our research as of November 2021
Product Line Up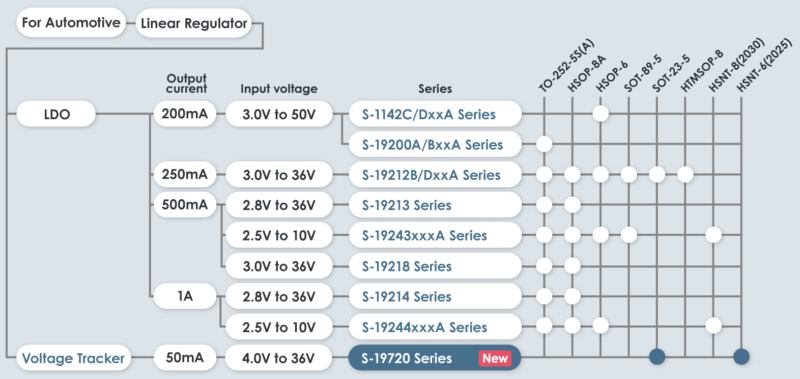 S-19720 Series Product Details
https://hub.ablic.com/en/products/s-19720
Website
ABLIC Inc. became a wholly owned company by MinebeaMitsumi Inc. as of April 30th, 2020.
Contacts
ABLIC Inc.
Masae Onuma
E-mail: pr@ablic.com
https://hub.ablic.com/en/pr-inquiry?rf=support