The ultra-small HSNT-8(2030) package and a wide variety of diagnosis functions makes the new product improve safety and reduces ECU size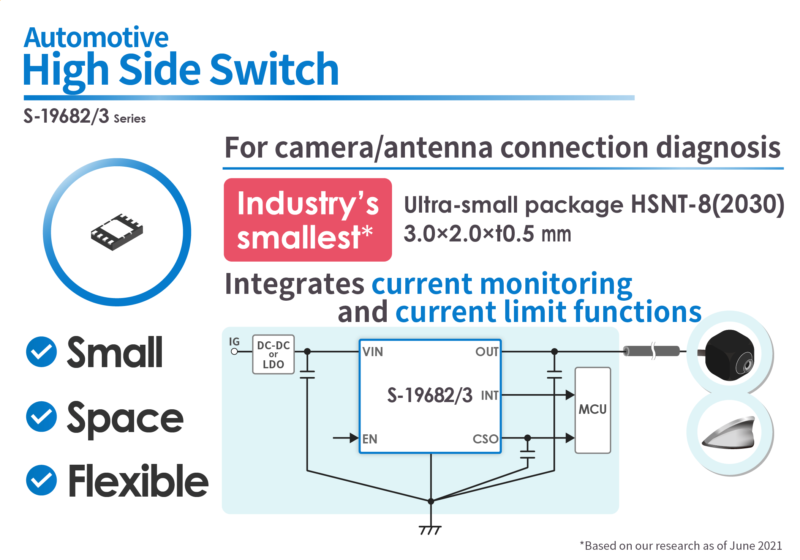 ABLIC Inc. (President: Nobumasa Ishiai, head office: Minato-ku, Tokyo, hereinafter "ABLIC") today launched the S-19682/3 Series of high-side switches for automotive use.
 A high-side switch is a semiconductor that uses external signals to turn circuits ON and OFF thereby controlling the power supply by turning the switch ON and OFF. Since the S-19682/3 Series high-side switch for connection diagnosis launched today comes with a current monitor function, the ECU can easily monitor current flowing through cameras and antennas. This capability enables the S-19682/3 Series to diagnose camera/sensor/antenna connection status and turn off the switch to disconnect the load in the event of connection errors or faults. Also equipped with a current limit function, it prevents the flow of overcurrent to provide safer design.
 As a one-channel per package product, the S-19682/3 Series uses the industry's smallest (*1) HSNT8(2.0×3.0xt0.5mm) package and therefore has a footprint per channel that is the industry's smallest when compared to multi-channel products. Small size contributes to design freedom and equipped with the earlier mentioned connection diagnosis function, this Series is fully equipped to meet the automotive requirements of the latest ADAS/AD systems.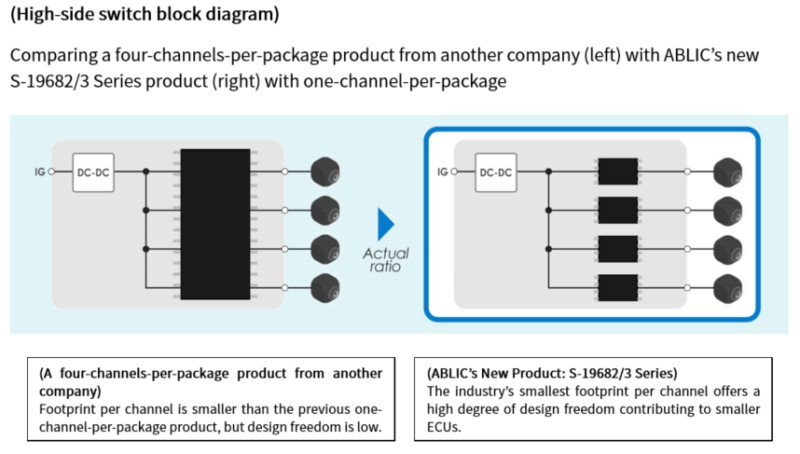 Moreover, the S-19682/3 Series is PPAP (Production Part Approval Process)-capable and also meets the AEC(*)-Q100 Grade1 (* Automotive Electronics Council) quality standard for automotive ICs.
 
Major Features 
Industry's smallest class! Housed in an ultra-small HSNT-8(2030) (2.0 x 3.0 x t0.5mm) package
High-accuracy current limit
Connection diagnosis of a wide variety of applications
A variety of protection functions ensure customer safety
Implements flexible connection diagnosis
 36V input/45V rating

Application Examples
•Connection diagnosis of automotive camera modules
•ECUs for automotive surround cameras
•Remote LNA phantom power supplies for GPS antennas and other devices
•ADAS locators
• eCal
• Car navigation/audio systems
Products Line up

S-19682/3 Series Product Details
https://hub.ablic.com/en/products/s-19682-19683
Website
(*1) An automotive high-side switch with 36V operation and 600mA output. Based on our research, as of June 2021

ABLIC Inc. became a wholly owned company by MinebeaMitsumi Inc. as of April 30th, 2020.
Contacts
ABLIC Inc.
Masae Onuma
E-mail: pr@ablic.com
https://hub.ablic.com/en/pr-inquiry?rf=support