Small magnetic sensor IC with a super-low operating current consumption of a mere 160nA and high magnetic sensitivity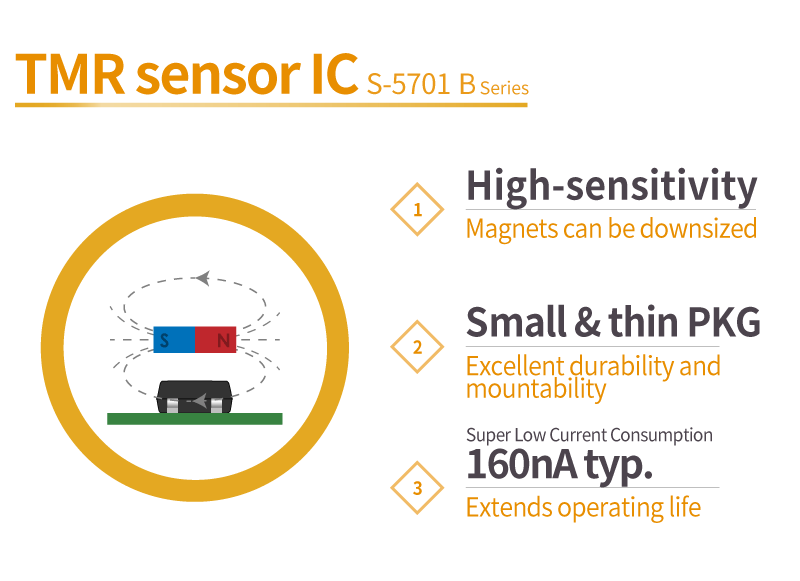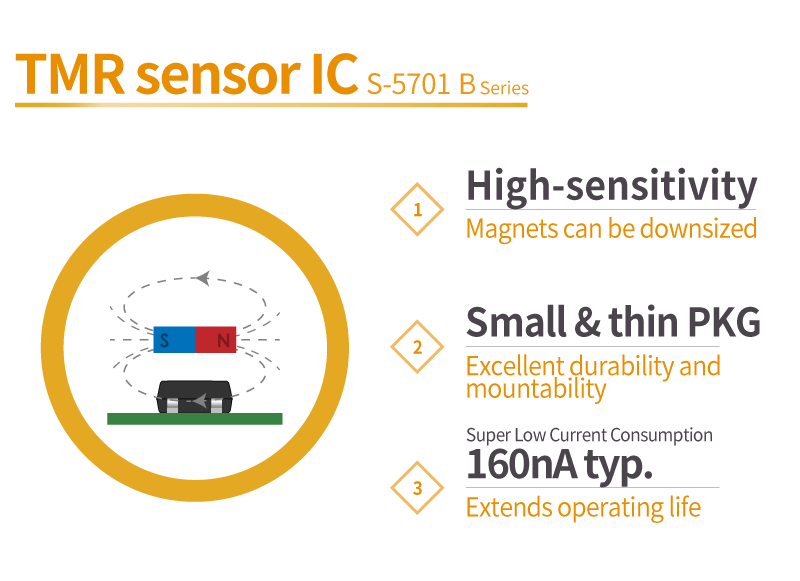 ABLIC Inc. (President: Nobumasa Ishiai, head office: Minato-ku, Tokyo, hereinafter "ABLIC") today launched the "S-5701 B Series" surface mount TMR (Tunnel Magneto Resistance) sensor IC, a magnetic sensor IC with super-low current consumption, high magnetic sensitivity, long life and an operating current consumption of a mere 160nA.
 The "S-5701 B Series" is a TMR sensor IC. However, unlike other MR sensor ICs such as Anisotropic Magneto Resistive (AMR) or Giant Magneto Resistive (GMR) sensor ICs, it features high sensitivity and super-low current consumption (160nA) making it an innovative product that solves the limitations of a conventional reed switch.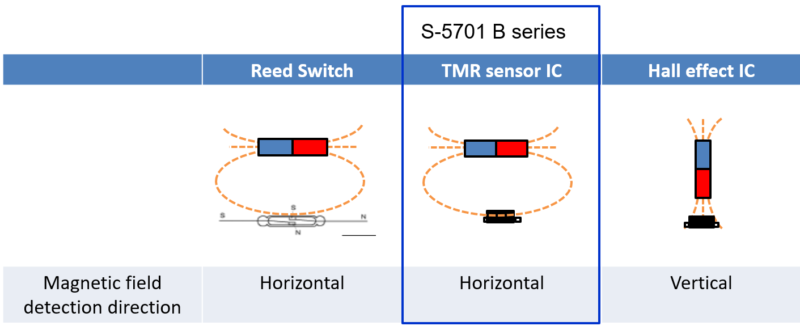 (Magnetic sensors)
[Reed Switch Limitations and the TMR Sensor IC Advantages that Solve Them]


  ABLIC has now added a new product, the "S-5701 B Series," a TMR sensor IC in a "Small, Smart and Simple" product lineup that detects horizontal magnetic fields allowing us to further broaden our customer base by proposing it to customers who are seeking a replacement for the reed switch.


Major Features of the S-5701 B Series
The IC's average current consumption is 160nA when using a power supply voltage of 3.3V. About 1/6th of the current consumption of a regular AMR IC
Operating voltage range: 1.7 to 5.5V, operation temperature range -40 to 125°C and satisfies a wide operating environment
Employs a super-thin TSOT-23-3S package
High magnetic sensitivity BOP = 1.0mT products available
Applications
•A reed switch replacement
Examples of products using this IC
•Window open/close sensors, electronic keys, smoke detectors
•Gas meters, water meters, smart meters
S-5701 B Series Product Details
https://hub.ablic.com/en/products/s-5701
Website
ABLIC Inc. became a wholly owned company by MinebeaMitsumi Inc. as of April 30th, 2020.
Contacts
ABLIC Inc.
Masae Onuma
E-mail: pr@ablic.com
https://hub.ablic.com/en/pr-inquiry?rf=support