ABLIC Inc. (President: Nobumasa Ishiai, head office: Chiba City, Chiba Prefecture; hereinafter "ABLIC") today launched the S-576Z Series of ZCL™ Hall effect ICs (magnetic sensors) that are designed to transform the development and manufacture of brushless DC motors.
Announced in October 2018 as the World's first (*2) ZCL™ Hall effect IC with an innovative detection methodology, this product is now launched as a product for use in consumer products.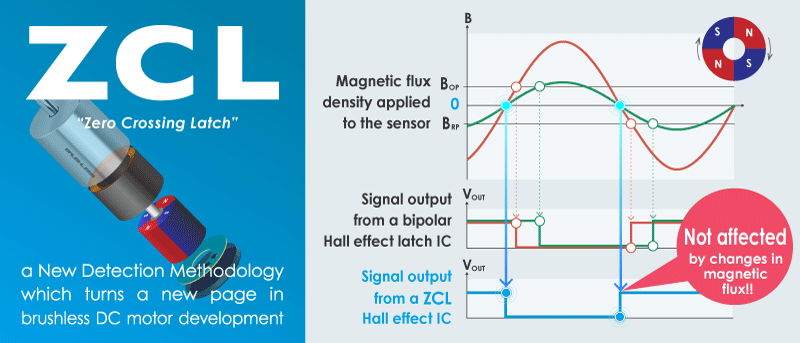 The S-576Z Series is not a unipolar or bipolar Hall effect latch IC but a ZCL™ Hall effect IC, a consumer product with an entirely new detection methodology capable of changing the output signal at the point (zero crossing point) where the polarity changes.
The S-576Z Series significantly improves flexibility at the design stage since it eliminates sensor positional accuracy and component variations and other negative impact on motor performance. It is a product that enables a reduction in the calibration work load in the manufacturing process and go a long way toward resolving the issues of motor developers and designers.
Compared to a bipolar Hall effect latch IC installed in a brushless motor (where sensor position is not optimal), a 15% or greater reduction in power consumption can be expected (*3), making it environmentally-friendly and also improving the performance of the product using the brushless motor.
(*1) ZCL is an abbreviation of "Zero Crossing Latch."
(*2) Based on our research as of September 2018.
(*3) Based on our research as of November 2019.
Major Features
1. A world first! The ZCL™ Hall effect IC employs an innovative detection method that differs from both unipolar and bipolar detection.
2. Attributes pertaining to internal motor use
A wide operating voltage range that promises stable sensor signal output at motor start and stop.
Static electricity countermeasures to withstand harsh motor assembly environments.
A built-in pull-up resistor (an optional product) ideal for reducing differences in the rise and fall delay times of sensor signal output.
Application Examples
Robots (brushless DC motors for vertical movement and operation of joints), electric power tools, cordless vacuum cleaners, and other consumer products that require high-energy efficiency, reliability, and low noise.
ZCL™ Technology Introduction
https://hub.ablic.com/en/products/zcl
S-576Z Series Product Details
https://hub.ablic.com/en/products/s-576z
Website
Contacts
ABLIC Inc.
Masae Onuma
E-mail: pr@ablic.com
https://hub.ablic.com/en/pr-inquiry