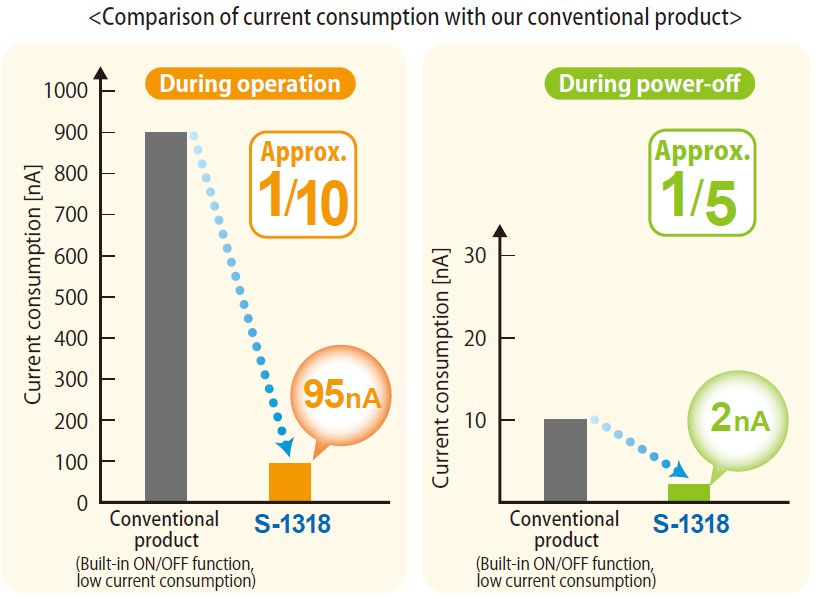 ABLIC Inc. (President: Nobumasa Ishiai, head office: Chiba City, Chiba Prefecture, hereinafter "ABLIC") today launched the S-1318 Series of low-current consumption LDO regulators (*1) for wearables and IoT devices.
The new S-1318 Series LDO regulator features a 5.5V input, 1.2 – 3.3V output, 95nA current consumption and 100mA output current. The current consumption of the S-1318 Series is a mere 95nA or about one-tenth of our conventional products placing it in the world's top class (*2) for low current consumption devices. This helps improve battery life by 25% (*3), providing longer operating time for battery-powered applications. In addition, the compact HSNT-4 (1010) (1.0mm x 1.0mm x 0.4mm) package housing the regulator reduces product footprint.
These features make the S-1318 Series ideal for use in IoT and wearable devices that demand low-power consumption, long continuous operation and compact size.
(*1) LDO regulator: A voltage regulator that is capable of operating at a low potential difference between input and output with negligible energy loss and enables a design that significantly reduces heat buildup.
(*2) Based on our research as of October 2018
(*3) Values obtained under our testing conditions
[Major Features]
Provides world's top class current consumption of as low as 95nA
Housed in a compact HSNT-4(1010) package
ON/OFF circuit reduces power consumption when not in use
[Major Specifications]
Output current: 100mA
Output voltage: 1.2V, 1.8V, 2.2V, 2.3V, 2.5V, 2.8V, 3.0V, 3.3V
Input voltage: 1.7 to 5.5V
Output voltage accuracy: ±1.0% (Ta = 25°C)
Current consumption during operation: 95nA typ.
Current consumption during power-off: 2nA typ.
Package lineup
Application Examples
Constant voltage power supply for activity trackers, smartwatches, glasses-like devices and other wearables and IoT devices
S-1318 Series Detail
https://www.ablic.com/en/semicon/datasheets/power-management-ic/voltage-regulator-ldo/s-1318/
Contacts