ABLIC Inc. (President: Nobumasa Ishiai, head office: Chiba City, Chiba Prefecture, hereinafter: ABLIC) has developed a ZCL™ Hall IC (magnetic sensor) that promises to transform the development and manufacture of brushless DC motors.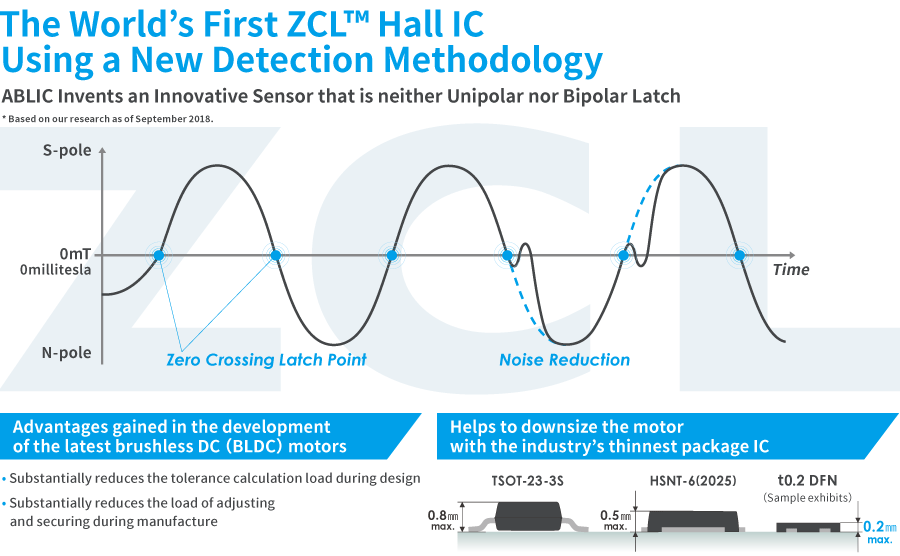 Conventional bipolar Hall effect ICs cannot detect a signal passing the 0mT (zero millitesla), the S-pole and the N-pole switchpoint, and it takes some time for the signal to be output when it reaches the detection point.
For this reason, a rigorous design is required at the device development stage as dispersion in sensor positional accuracy and in the parts that make up the IC may otherwise affect motor performance in a number of ways.
Also, this bipolar Hall effect IC shortcoming sometimes increased the calibration work load at a manufacturing field.
ABLIC has developed a "ZCL™ Hall IC" that uses neither unipolar nor bipolar latch detection but an entirely new detection methodology that solves the issues plaguing conventional Hall ICs. This new Hall IC employs our proprietary ZCL™ technology to detect and output a signal when it reaches 0mT (zero millitesla).
Our "ZCL Hall IC" significantly improves design flexibility for brushless DC motors and substantially improves efficiency of the calibration process. Since motor performance of a brushless DC motor using Hall ICs is more stable than one using conventional Hall ICs, quality is definitely improved.
Major Features
The World's first ZCL™ Hall IC, an IC that utilizes an innovative detection methodology that uses neither unipolar nor bipolar latch
Encapsulated in a lineup of packages in the world's thinnest (*1) class!
Application Examples
High-performance home appliances that require low power consumption, quiet operation, low noise, low vibrations or other high-performance control features.
(Example: Fans, washing machines, air conditioner indoor units, robot vacuum cleaners, etc.)
In-vehicle motors, industrial motors and other fields that require high reliability and low noise performance.
(*1) Based on our research as of September 2018
(*2) ZCL is an abbreviation of "Zero Crossing Latch."