09/07/2018
Techanalye Co.,Ltd.
At the beginning of July 2018, ABLIC unveiled the ultraviolet (UV) sensor S-5420A-P6T2S (S-5420).
Ultraviolet is electromagnetic radiation, shorter than a wavelength of visible light. The electromagnetic spectrum of ultraviolet radiation, defined most broadly as 10 – 400 nm, can be subdivided into 3 types, UV-A (315 – 400nm), UV-B (280 – 315nm) and UV-C (100 – 280nm) (see Fig.1). UV-A rays are the ones primarily responsible for freckles and wrinkles. UV-B rays work on the epidermis, causing the most obvious and immediate effect of sunburn. (All UV-C rays of the Sun's UV light are blocked by ozone layer and does not reach the ground. UV-C rays are used to kill or inactivate microorganisms. UV-C will be mentioned next time.) These UV-A and UV-B can easily be visualized and quantified by using S-5420.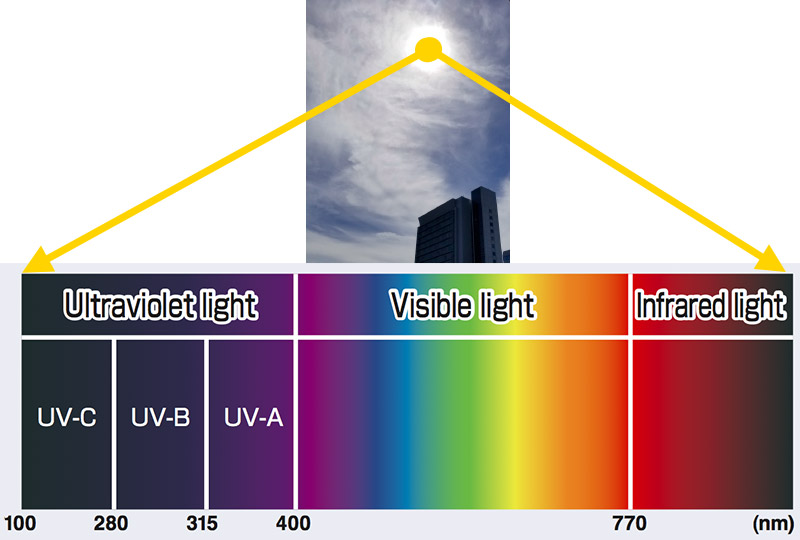 Fig.2 shows a demonstration of the UV indicator with S-5420. The monitors in the upper-left part and upper-right part display the numerical values before and after UV light is irradiated. There is a small hole at the center of the lower part of the indicator and S-5420 is in the back of it. The size is 2.55 x 1.56 x t0.65(max.) mm. It is very small compared with a 1 yen coin.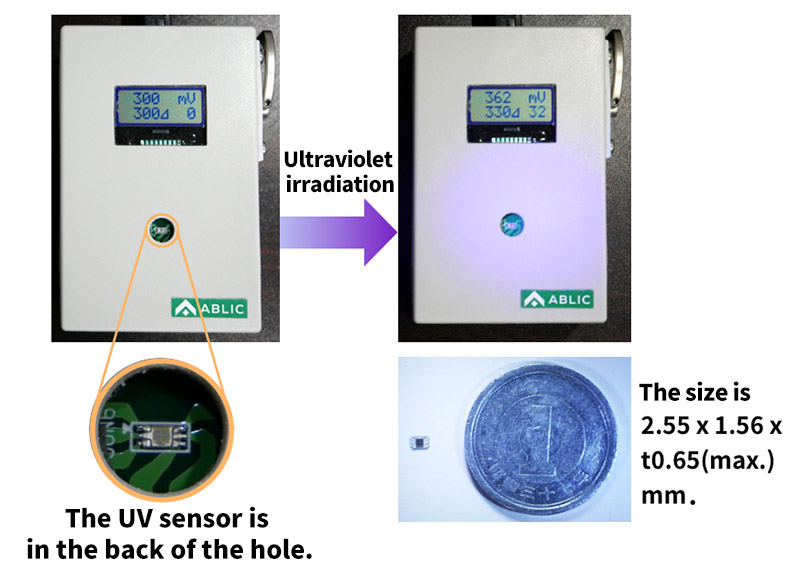 In this small and highly sensitive UV sensor, two new technologies were introduced. The first one is a ultraviolet components detection method developed by the research team at Tohoku University. Utilizing the differential spectral response of the silicon photodiodes with high and low UV light sensitivities, cut off the  spectrum of visible light and detect the intensity of the UV light (See Fig.3).
S-5420 contains a combination of the silicon photodiodes with high and low UV light sensitivities.
Utilizing the differential spectral response of these photodiodes and cutting off the  spectrum of visible light, it can detect and measure the intensity of UV light without employing an optical filter.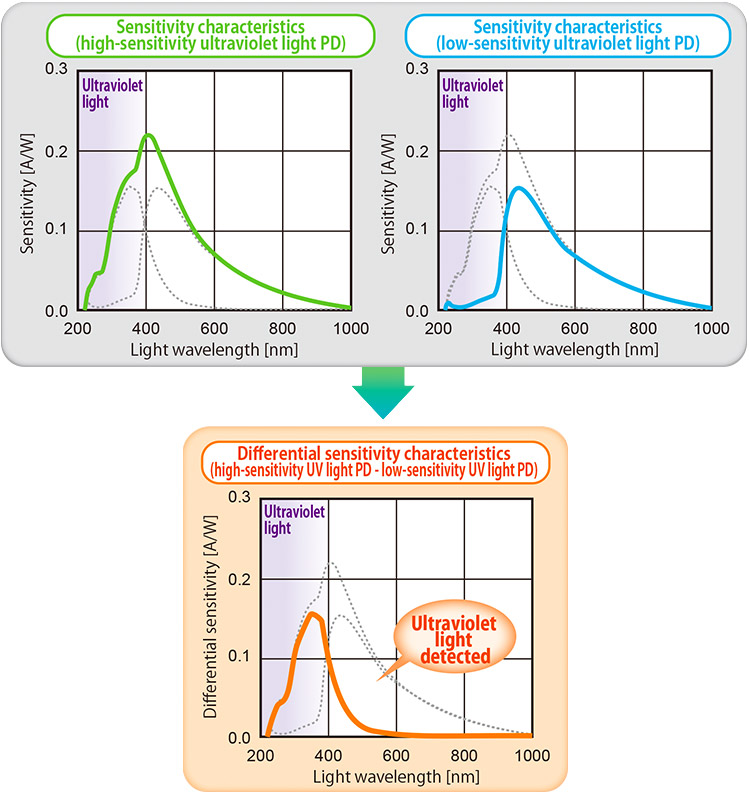 The optical filter-less structure obtains a higher sensitivity by preventing a decrease of incident UV light intensity to the sensor. And it can be reduced in physical size. The second one is a surface mount package utilizing ultraviolet permeable transparent resin (See Fig. 4). With these two technologies, S-5420 is microminiaturized and suitable for smartphones, wearable and other Internet of Things (IoT) devices.

S-5420 utilizes the silicon photodiode technology developed by Tohoku University. That has high light resistance which does not deteriorate performance even under irradiation with strong UV light for long time.
In fact, ABLIC has had photodiode technologies for thirty years and provided custom-made optical sensor (Contact Image Sensor, CIS) products for printers and scanners.
The new UV sensor S-5420 is the product made with ABLIC's traditional photodiode technologies and Tohoku University's state of the art UV light sensor technologies, using silicon semiconductors to selectively detect and measure the light intensity of UV-A and UV-B light wavebands.
And to bring the product to the smartphones, wearables and other IoT devices, extremely compact package was developed.
ABLIC will continue working toward applying UV sensor in wide range of environments including industry field. UV curing machines and printers using UV curable ink are being used more extensively than ever before. In an upcoming article, I will introduce ABLIC's future development plan for the UV sensor.
Next Page: Exploring markets with new and integrated functions, Future development plan of the UV sensor "S-5420"
Related Information