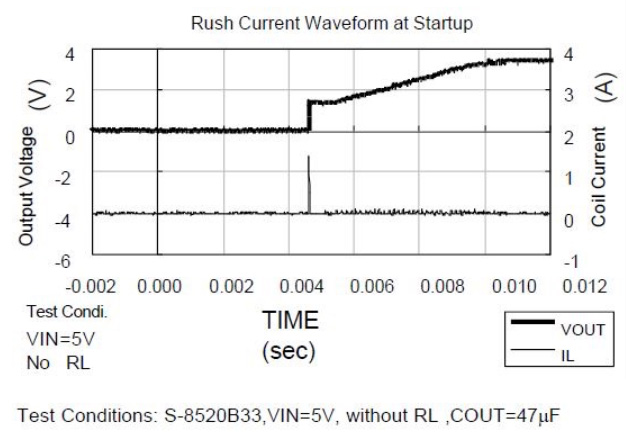 This problem is inherent to series S-8520/8521.
This IC has a soft start circuit that ensures slow startup of the output voltage by gradually increasing the Vref voltage from 0 V to the reference voltage and minimizes rush current at startup. However, the Vref voltage and VOUT pin voltage go 0 V the moment voltage starts dropping. Any rise in the output voltage is controlled until the Vref voltage keeps a certain level of voltage because normal control of the output voltage is not available. This enables the output voltage to start up at a certain Vref voltage, to be instantaneously increased. At this time rush current flows. As one of measures, it is recommended that TR2, 3, R1 to 4 and C1 be added.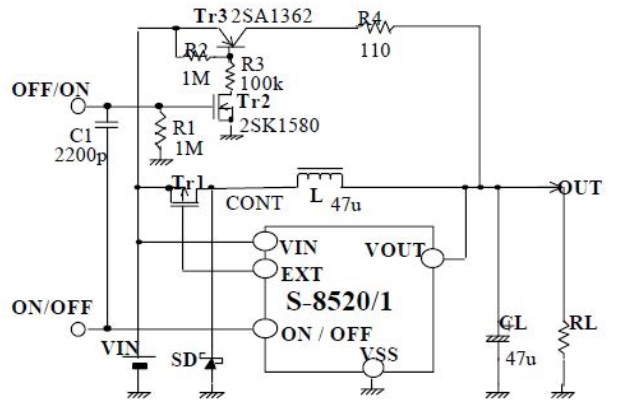 Basically, the same effect as soft start can be obtained by charging CL from VIN via R4 while the ON/OFF switch is forcibly turning off TR1 in the UVLO circuit when LO→HI.
Configure the IC so that off time is obtained in the UVLO circuit using C1 and R1 (when the configuration is achieved by microcomputer, use it.) or design the IC so that gradient of a rise in the OUT voltage can meet soft start via R4 In addition, rush current can be decreased by turning on TR2 and TR3, flowing current of (Vin-Vout)/R4 through OUT and charging CL.